大成至聖先師孔老夫子 Great Accomplishment, Holy and Exalted Teacher, Kong the Elder (Confucius)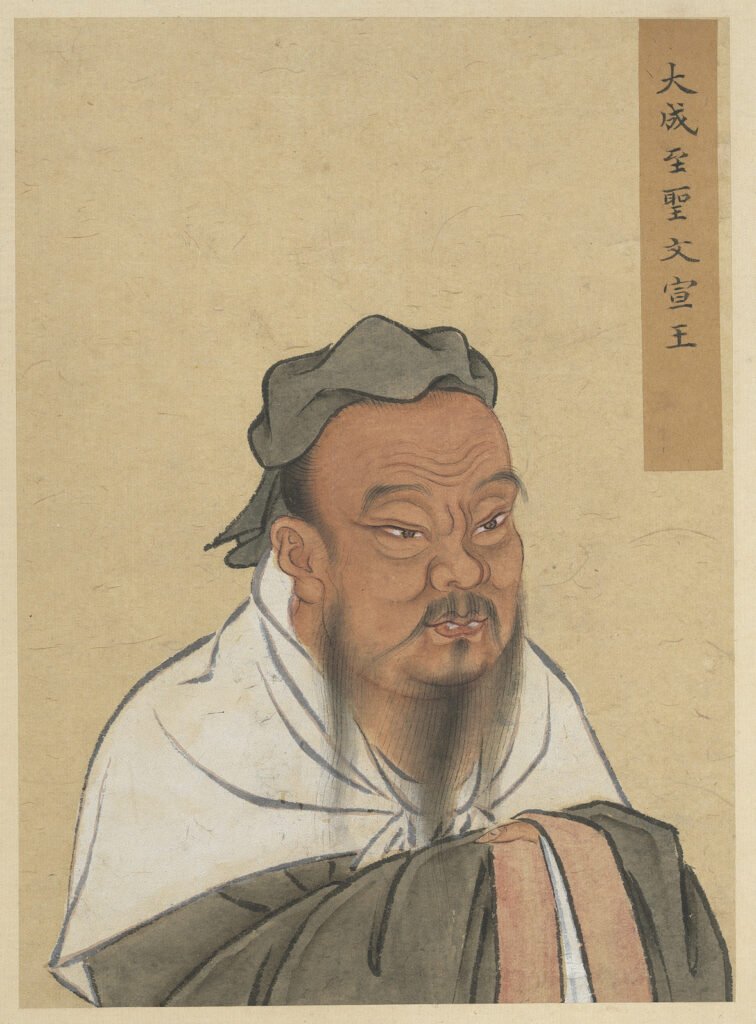 孔丘(前551年9月28日-前479年4月11日),子姓,孔氏,名丘,字仲尼,後代敬稱孔子或孔夫子,生於魯國陬zōu邑,祖先為宋國貴族,即殷商遺族後代,東周春秋末期魯國的教育家與哲學家,曾在魯國擔任官府要職,離開魯國後周遊列國十四年,最終魯哀公將其迎回魯國,賜封國老,稱「尼父」。孔子隨後開始編修《春秋》一書,是以無天子之名而行天子之事,號稱「素王」。孔子為儒家創始人兼主要代表人物,在儒家四大聖人之中被奉為「至聖」,其地位為儒家聖賢之中最高者。倡導仁義禮智信,以其言為主的言論匯編《論語》為儒家重要經典之一,其思想對鄰近地區,如:朝鮮半島、琉球、日本、越南、東南亞以及海外華人分布圈等地區皆有深遠影響,此等地區也被稱為儒家文化圈。
Kong Qiu (September 28, 551 BC – April 11, 479 BC), with the courtesy name Zhongni and the honorific title Kongzi or Kongfuzi, was a philosopher and educator in the late Spring and Autumn period of the Eastern Zhou dynasty in China. He was born in the Zouyi village of Lu state, and his ancestors were noble families of the Song state, descendants of the Shang dynasty. Kong Qiu held important positions in the Lu government before leaving and traveling to other states for fourteen years. He was eventually welcomed back by the Lu Ai Gong and granted the title of Guolao, or "Ni Fu. Afterwards, Confucius began to edit the book "Spring and Autumn Annals", acting as if he were a king despite not holding that position, and was known as "Su Wang (素王)". As the founder and key representative of Confucianism, he is regarded as the "Supreme Sage" among the Four Sages of Confucianism. He advocated the virtues of benevolence, righteousness, propriety, wisdom, and faithfulness, and his teachings were recorded in the Analects, one of the most important Confucian classics. His ideas have had a profound impact on neighbouring regions such as the Korean Peninsula, Ryukyu, Japan, Vietnam, Southeast Asia, and overseas Chinese communities, which are collectively referred to as the Confucian cultural sphere.
孔丘(前551年9月28日-前479年4月11日),子姓,孔氏,名丘,字仲尼,後代敬稱孔子或孔夫子,生於魯國陬zōu邑,祖先為宋國貴族,即殷商遺族後代,東周春秋末期魯國的教育家與哲學家,曾在魯國擔任官府要職,離開魯國後周遊列國十四年,最終魯哀公將其迎回魯國,賜封國老,稱「尼父」。孔子隨後開始編修《春秋》一書,是以無天子之名而行天子之事,號稱「素王」。孔子為儒家創始人兼主要代表人物,在儒家四大聖人之中被奉為「至聖」,其地位為儒家聖賢之中最高者。倡導仁義禮智信,以其言為主的言論匯編《論語》為儒家重要經典之一,其思想對鄰近地區,如:朝鮮半島、琉球、日本、越南、東南亞以及海外華人分布圈等地區皆有深遠影響,此等地區也被稱為儒家文化圈。
孔子在世時被譽為「天縱之聖」、「天之木鐸」,西漢時由董仲舒倡議,漢武帝施行「獨尊儒術」政策,後世統治者或孔教信徒陸續尊稱孔子為聖人、文聖、至聖、至聖先師、大成至聖先師、萬世師表。道教稱號:太極上真九疑主宰文昌皇人玄聖道君、東海廣桑山真君、闡猷大帝、興儒盛世天尊[7]。在朝廷影響之下,孔子在民間地位亦愈加崇高,最後被神格化,為智慧之神。
而一般對孔子的慣用敬稱為孔夫子,英語等西方語言中的Confucius則是「孔夫子」(Con-Fu-Ci)的拉丁語化。
During his lifetime, Confucius was praised as the "Divinely Ordained Sage" and the "Wooden Bell from Heaven." During the Western Han dynasty, Dong Zhongshu proposed the policy of "solely honoring Confucianism," and Emperor Wu of Han implemented it. Later rulers or followers of Confucianism successively honored Confucius as a saint, the Sage of Literature, the Sage of Sages, the Greatest Sage and Foremost Teacher, the Grand Master of Perfect Enlightenment, and the Exemplar for Ten Thousand Ages. In Taoism, he is referred to as the Taiji Supreme, Lord of the Mysterious Nine Abysses, Ruler of Culture, Emperor of Enlightenment, and the Great Teacher of Flourishing Scholars. Under the influence of the imperial court, Confucius' status in folk society became increasingly elevated, and eventually, he was deified as the god of wisdom.
家系與出生 Family Lineage and Birth
主條目:孔子世家大宗世系和孔子誕辰日 
Main article: Main article: Family lineage of Confucius and Confucius' birthdate
孔子為魯國人,遠祖是殷商王室,武王克殷後,他的祖先分封到宋國。
Confucius was born in the state of Lu. His distant ancestor was a member of the royal family of the Shang dynasty. After The Battle of Muye, Confucius' ancestors were enfeoffed to the state of Song.
其十六世祖是殷商帝乙,十五世祖為宋國第二任國君宋公仲,十二世祖是宋前閔公,十一世祖弗父何讓位給弟宋厲公,拜為宋國上卿。七世祖孔父嘉是宋國大夫,曾為大司馬,在宮廷內亂中被殺,孔父嘉子木金父避災逃到魯國的陬邑定居,作魯國的大夫。
Confucius' ancestry can be traced back to Emperor Di Yi (帝乙) of the Shang dynasty, who was his 16th great-grandfather. His 15th great-grandfather was Song Gong Zhong (宋公仲), the second ruler of the State of Song. Kong's 12th great-grandfather was Song Qian Min Gong (宋前閔公), and his 11th great-grandfather gave up his position to his younger brother, who became Song Li Gong (宋厲公) and appointed Kong's ancestor as a high official. Kong's 7th great-grandfather, Kong Fu Jia (孔父嘉), was a great minister of the State of Song but was killed during a palace coup. To avoid disaster, Kong Fu Jia's son, Mu Jin Fu (木金父), fled to the town of Zou in the State of Lu and settled there as a high official.
孔子的父親叔梁紇居於魯昌平鄉陬邑,為陬邑大夫。叔梁紇與原配施氏連出九個女兒,他望子心切,於是續娶一妾,得一子名孟皮,卻腳有殘疾。叔梁紇在七十二歲時三度娶妻,娶了十八歲的顏征在[來源請求],由於婚姻不合禮製,被史書稱為野合,約在魯襄公廿二年(公元前551年)生下孔丘。顏征在曾私下至尼丘山祭祀尼丘山神以求子,故取名丘,字仲尼。
Shuliang He, Confucius' father, served as a nobleman in Zouyi, located in Changping County of Lu State. He had nine daughters with his first wife, but he longed for a son. He took a concubine and had a son named Meng Pi, who was handicapped. At the age of 72, he married for the third time to Yan Zhengzai, who was 18 years old. However, their marriage was considered an illicit union since it did not follow the rites. Confucius was born to them around the 22nd year of Lu Xiang Gong (551 BC). In order to have a son, Yan Zhengzai secretly went to Mount Ni to worship the deity there and pray for a child, which is why she named him Qiu with the courtesy name Zhongni.
儀容 Appearance
孔子生而首上圩頂,而孔子,名「丘」,即是來源於此的說法。而唐朝司馬貞認為:「圩言烏。頂音鼎。圩頂言頂上窳也,故孔子頂如反宇。反宇者,若屋宇之反,中低而四傍高也。」即孔子頭頂中部有凹陷。清朝陳立相信此說,「是孔子首形象邱,四方高,中下,故名丘焉。」史學家錢穆在《孔子傳略》中也持此說。
According to legend, Confucius was born with a depression on the top of his head, which is why he was given the name "Qiu," meaning "mound" or "hill." Tang Dynasty scholar Sima Zhen explained that "圩頂" referred to a depression on the head, making Confucius' head resemble an inverted house with a low center and high sides. Qing Dynasty scholar Chen Li also subscribed to this theory, stating that "孔子首形象邱,四方高,中下,故名丘焉" (Confucius' head resembled a mound with high sides and a lower center, hence his name Qiu). In his book "A Brief Biography of Confucius," historian Qian Mu also endorsed this explanation.
孔子身高九尺六寸(據中國度量衡條,周尺一尺約19.1公分,八寸為一尺,則孔子身高約186公分;戰國時期為一尺23.1公分,十寸為一尺,則孔子身高為221.76公分。以春秋時期的魯尺應遵循周製而言,則《孔子世家》所載之九尺六寸,當為186公分。)被後世稱為「長人」,這是孔子父親的遺傳。據《左傳·襄公十年》曾記載:孟獻子曾稱贊孔子父親叔梁紇能力舉城門,說:「這就是《詩經》所說的『像老虎一樣有力氣』的人。」
It is believed that Confucius was 9 feet 6 inches tall, with his height being measured differently depending on the period in which it was recorded. According to the Spring and Autumn period of Lu's measurement system, his height should be around 186 centimeters, while during the Warring States period, it was estimated to be around 221.76 centimeters. Regardless of the system, he was nicknamed "the tall one" due to inheriting his height from his father. This was evident in the praise given by Meng Xianzi in "The Annals of Lu," where Confucius' father was commended for his ability to lift the city gate, likening him to the powerful man described in the Classic of Poetry.
早年教育 Early Childhood Education
孔子早年生活極為艱辛,他說:「吾少也賤,故多能鄙事。」
孔子三歲時,叔梁紇去世,葬於魯國東部的防山,孔母未將墓的所在地告訴孔子。顏氏移居曲阜闕裏,將其撫養成人。
Confucius' early life was extremely difficult. He once said, "In my youth, I was poor and therefore able to do many lowly tasks."
At the age of three, Confucius' father, Shuliang He, passed away and was buried on Fangshan in the eastern part of the State of Lu. However, his mother did not disclose the location of the grave to him. Confucius was raised to adulthood by Yan, who had immigrated to Queli, Qufu.
幼年的孔子常將祭祀用的禮器(俎豆)擺設起來,練習行禮演禮,作為一種遊戲。
Confucius, in his childhood, used to arrange ritual vessels (俎豆) used in sacrifices, and practiced performing rituals, as if playing a game.
孔子的母親在他17歲時去世,孔子希望將父母合葬。為了打聽父親葬處,他將母親棺殯停於路口(五父之衢),向路人打聽。後孔母的鄰居曼父之母,告訴孔子叔梁紇的墓處,孔子這才將父母合葬於防山。第二年,孔子在為母親守喪時,季孫氏宴請士一級的人(饗士)。孔子前往,不想卻被季孫氏家臣陽虎訓斥並拒絕。但後世學者多懷疑此事有偽。
At the age of 17, Confucius' mother passed away, and he wished to bury his parents together. To find his father's burial place, he halted his mother's funeral procession at the crossroads of Wufu Street(五父之衢)and inquired of passer-by. A neighbour revealed the location of Shuliang He's grave, and Confucius was finally able to bury his parents together near Fangshan. The following year, while mourning his mother, he was reprimanded and denied entry to a feast hosted by the Jisun family's, although scholars have since cast doubt on this incident.
19歲時孔子為魯國貴族季孫氏做文書、委吏和乘田等小吏,管理倉儲和畜牧。娶宋人亓官氏為妻,第二年亓官氏生子。魯昭公派人送鯉魚表示祝賀,該子便名為孔鯉,字伯魚。孔鯉先孔子而死,有遺腹子孔伋,字子思。
When Confucius was 19 years old, he worked for the Jisun clan, a noble family in the State of Lu, as a minor official in charge of clerical duties, appointments of officials, agriculture, and management of granaries and livestock. He married Qiguan Shi, a woman from Song, who gave birth to their son, Kong Li (also known as Boyu), the following year. Lu Zhao Gong sent li (鯉) as a congratulatory gift, and they named the child Kong Li. However, Kong Li died before Confucius, leaving behind a posthumous son, Kong Ji (also known as Zisi).
23歲時孔子開始在鄉間收徒講學,學生有顏由(顏回之父)、曾點(曾參之父)、冉耕等。
魯昭公十七年,郯國國君郯子訪魯。郯子博學多才,27歲的孔子慕名拜見。韓愈《師說》有語:「孔子師郯子。」孔子先後「問禮於老聃,學鼓琴於師襄子,訪樂於萇弘。」
At the age of 23, Confucius began teaching and accepting students in rural areas, including Yan You (father of Yan Hui), Zeng Dian (father of Zeng Shen), and Ran Geng. In the 17th year of Lu Zhao Gong's reign, Emperor Tan Zi of Tan visited Lu. Being learned and talented, Confucius, who was 27 years old at that time, went to see him out of admiration. Han Yu wrote in his essay "Shi Shuo (師說)" that "Confucius studied under Tan Zi." Additionally, Confucius sought knowledge from Lao Zi on rituals, learned to play the drum from Shi Xiang Zi (師襄子), and inquired about music from Chang Hong (萇弘).
大約三十歲左右,最初的一些弟子來到孔子身邊。此後,孔子一直從事教育事業,他廣收門徒,相傳弟子三千,賢人七十二。他首倡有教無類及因材施教,成為當時學術下移、私人講學的先驅和代表,故後人尊為「萬世師表」及「至聖先師」。
At around the age of 30, some of Confucius' first batch of disciples came to him. Since then, Confucius had been engaged in the education industry, accepting a large number of students. It is said that he had 3,000 disciples and 72 wise students. He advocated teaching without discrimination and teaching according to the individual's abilities, which made him a pioneer and representative of private teaching and academic decentralization at that time. Therefore, later generations respectfully refer to him as the "model teacher for all ages" and the "supreme sage and first teacher."
適齊 Arrival in the state of Qi
三十五歲時,魯昭公被魯國掌權的三桓季孫氏、叔孫氏、孟孫氏擊敗,逃到齊國,孔子便離開魯國到齊國,為高昭子家臣。孔子曾與齊太師談說音樂,聞習韶樂之盛美,三月不知肉味。齊景公問政於孔子,孔子說:「君君,臣臣,父父,子子。」齊景公說:「善哉!信如君不君,臣不臣,父不父,子不子。雖有粟,吾得而食諸?」他日又問政於孔子,孔子說:「政在節財。」景公想封孔子為尼谿田大夫,遭齊相國晏嬰進言勸阻,晏嬰認為孔子會幹擾齊國的文化。後來得知有齊大夫欲害孔子,景公沒有辦法,只好辭退孔子,孔子則重回魯國,聚徒講學。
At the age of 35, when Lu Zhao Gong was defeated by the Three Huan (Sanhuan Ji, Shusun Ji, and Mengsun Ji), and fled to the State of Qi, Confucius left Lu and went to Qi to serve as a retainer for the nobleman Gao Zhao Zi. Confucius once talked about music with the Qi Tai Shi (齊太師), and was so enchanted by the beautiful melodies of the Shao music that he forgot the taste of meat. Qi Jing Gong asked Confucius about politics. Confucius answered, "The ruler should behave like a ruler, the subject should behave like a subject, the father should behave like a father, and the son should behave like a son." Jing Gong said, "Good! If the ruler does not behave like a ruler, the subject does not behave like a subject, the father does not behave like a father, and the son does not behave like a son, even if there is food, can I eat it?" On another occasion, Jing Gong asked Confucius about governing, and Confucius replied, "Governing is about frugality." Jing Gong wanted to appoint Confucius as the Ni Xi Tian Dai Fu(尼谿田大夫), but was dissuaded by Qi Prime Minister Yan Ying, who believed that Confucius would disturb the culture of Qi. Later, when Jing Gong learned that someone was plotting against Confucius, he had no choice but to dismiss Confucius, who then returned to Lu and continued to teach and lecture.
初仕魯國 First Career in the State of Lu
魯定公九年,51歲的孔子仕魯,初為中都宰(中都為今山東汶上縣),一年後做季孫氏司空,再升為魯國大司寇,期間行攝相事。
In the ninth year of Duke Ding of Lu, at the age of 51, Confucius started his official career in the State of Lu. He was initially appointed as the Minister of Zhongdu (present-day Wenshang County, Shandong Province), and later, after one year, he became the Sikong (司空) of the Jisun clan. He was then further promoted to the position of Da Sikou (魯國大司寇) of Lu, during which he also served as an acting prime minister.
魯定公十年,魯定公與齊景公會於夾谷,孔子成功說服齊歸還侵占魯的汶陽等地。
In the tenth year of Duke Ding of Lu, Duke Ding of Lu and Duke Jing of Qi met in Jiagu. Confucius successfully persuaded Qi to return Wenyang and other places occupied by Lu.
魯定公十三年,孔子為重新確立魯公室的權威,策劃實施「隳三都」的政治軍事行動,希望能夠削減三桓麾下的實力,於是先墮叔孫氏之郈,再墮季孫氏之費,後因沒能圍攻孟孫氏的郕邑,功敗垂成。
In the thirteenth year of Duke Ding of Lu, Confucius planned and implemented a political and military action called the "Destruction of the Three Dukes" in an effort to reduce the power of the three major families. His goal was to re-establish the authority of the Duke of Lu. He first attacked the Shusun family, then the Jisun family. However, he failed to besiege the Chengyi of the Mengsun family, and ultimately failed in his campaign.
魯定公十四年,孔子誅殺魯大夫亂政者少正卯;但有看法認為少正卯事件是受到法家思想影響的後世學者所杜撰。
In the fourteenth year of Duke Ding of Lu, Confucius executed Shao Zhengmao who had caused chaos in politics in Lu. However, some believe that the Shao Zhengmao incident was fabricated by later scholars influenced by Legalist thought.
由於孔子治下魯國頗有起色,引起齊人警懼,齊大夫黎鉏設計,向魯贈送女樂文馬使魯定公不問朝政,並讓孔子與魯定公、季桓子等人之間在道德與政策上的分歧難以彌合,最終孔子去魯仕衛。
As the state of Lu under Confucius' rule was quite prosperous, it aroused the fear of the Qi people. Li Hao, a great official of Qi, designed to send a female musician to Lu so that Duke Ding of Lu would not interfere with the government, and made it difficult to bridge the moral and policy differences between Confucius and Duke Ding of Lu, Ji Huanzi and others.
周遊列國 Traveling around the country
離開魯國以後,孔子率眾弟子周遊列國,輾轉於衛、曹、宋、鄭、陳、蔡、葉、楚等地,然而均未獲重用。其間,在匡、宋、蒲等地,孔子一行多次被困遇險。
After leaving the state of Lu, Confucius led his disciples to travel around the country, moving to Wei, Cao, Song, Zheng, Chen, Cai, Ye, and Chu, but they were not reappointed. During this period, in Kuang, Song, and Pu, Confucius and his disciples were trapped and in danger many times.
留衛期間 Period of staying in Wei
孔子到了衛國,在前往陳地時,途經匡城,顏刻舉策指著郭外缺口說:「昔吾入此,由彼缺也。」因孔子身材高大,被匡人誤以為是魯國的陽虎,而遭圍捕。子路感到憤怒,奪戟準備交戰,但被孔子阻止。過程中孔子曾與顏回失散,一度以為顏回已死。
衛靈公提供孔子與仕魯時同等的俸祿。居住一段時間後,遭人誣諂而離開。
孔子在蒲城滯留幾個月後返回衛國,衛靈公夫人南子非常想見孔子,並派人逼孔子去謁見她。孔子不得已就去了,臉朝著北面,低頭俯地,不敢正視她;她亦於帷幕中再拜孔子。子路得知南子見孔子之後,為此事甚感不滿,孔子心裏明白,便對著子路向天發誓說:「我如果做了錯事的話,就讓老天處罰我吧!」數月後,衛靈公與夫人南子同車,孔子為次,其余官員在後,招搖遊市而過。孔子對此事引以為恥,顏刻問有何恥辱,孔子感嘆:「我還從未遇見過好德勝過好色的人啊!」便離開衛國。
When Confucius arrived in Wei, on his way to Chen, he passed by the city of Kuang. He pointed to the gap outside the city and said, "Once upon a time, when I entered this city, I entered through that gap. Because Confucius was tall, he was misunderstood by the Kuang people as the Yang Hu of Lu and was arrested. Zi Lu was furious and prepared to fight, but was stopped by Confucius. During this journey, Confucius and his disciple Yan Hui became separated, and Confucius thought that Yan Hui had died.
The Duke of Wei provided Confucius with the same salary he had received while serving in Lu. After living in Wei for a while, he was criticized and left the country.
After staying in Pucheng for a few months, Confucius returned to Wei. Queen Nan Zi was very eager to meet him and sent people to force him to visit her. Confucius had to comply, but he faced her with his face turned towards the north, bowing and scraping, without daring to look at her. Nan Zi also offered him a second bow behind the curtains. Zi Lu was dissatisfied after learning that Nan Zi had met with Confucius, but Confucius understood it, and swore to Zi Lu to the heavens, saying "If I have done something wrong, let heaven sentence me!" A few months later, the Duke of Wei Ling and his wife Nanzi rode together with Confucius in second place and the rest of the officials behind them, waving and parading through the city. Confucius was ashamed of this, and when he was asked by Yan what the shame was, he exclaimed, "I have never met anyone who is more virtuous than lustful! Then he left the state of Wei.
過宋之危 Danger of passing through the Song country
孔子到了宋國以後,在大樹下和弟子習禮。宋司馬桓魋欲殺孔子,將大樹拔除。弟子打算盡速離去,孔子說:「上天給了我德行,桓魋能把我怎麽樣呢?」
After Confucius arrived in Song Country, he and his students studied ethics under a large tree. Song Minister Huan Qi wanted to kill Confucius and remove the tree. His students planned to leave quickly, but Confucius said, "As long as heaven has given me virtue, so what can Huan Bu Buang do to me?"
相失於鄭 Lost in Zheng
孔子在鄭國時,與弟子失散,孔子獨自站立在外郭的東門。有人告知子貢,東門有人的額頭像堯,脖子像臯陶,肩膀像子產,腿長比禹短了三寸,但狼狽得像「喪家(喪事人家)之犬」。弟子終把孔子尋回,並將此話告訴孔子,孔子欣然笑曰:「形容我說像那些聖賢的樣貌,還在其次。但說我像條『喪家之犬』,真的講得很對、很對!」
When Confucius was in the country of Zheng,  he was separated from his disciples and stood alone at the east gate of the outer circuit. Someone told Zi Gong that there was a man at the east gate who had a forehead like Yao, a neck like Gao Yao, and shoulders like Zichan, and his legs were three inches shorter than Yu's, but he was in such a mess that he looked like a "mourning dog".  The disciple finally found Confucius and told him this, Confucius smiled and said, "Comparing me to those religious figures is secondary. But comparing me to a 'mourning dog' is truly accurate and correct!"
受困陳蔡 Trapped in Chen and Chai Country
周敬王三十一年(魯哀公六年,前489年)壬子,吳伐陳、楚伐蔡之際,楚昭王派人聘請孔子,孔子隨即出發。陳、蔡大夫懼怕孔子為楚國所用,便將孔子圍困在陳、蔡野外,孔子等人不得行,絕糧七日,許多弟子病倒不起。弟子中多有不快者,孔子仍舊講誦不絕。後來派子貢至楚,楚昭王興師迎接孔子。孔子在楚國期間,楚昭王一度想封給孔子七百裏土地,令尹子西以孔子手下人才濟濟,如果獲得封地將來會威脅楚國統治為由勸阻了昭王。
In the thirty-first year of King Jing of Zhou (the sixth year of Duke Liao of Lu, 489 B.C.), when Wu invaded Chen and Chu invaded Cai, King Zhao of Chu sent someone to invite Confucius to join him, and Confucius set out immediately. The minister of Chen and Chai were afraid that Confucius would be used by Chu, they besieged Confucius in the wilderness of Chen and Cai, where he and his followers were unable to move, and was deprived of food for seven days. Many of his disciples fell ill. Many of his disciples were unhappy, but Confucius continued to speak and recite. Later, he sent Zi Gong to Chu, and King Zhao of Chu raised his teachers to welcome Confucius. During Confucius' stay in Chu, King Zhao wanted to grant him 700 miles of land, but the magistrate, Zi Xi, dissuaded him on the grounds that Confucius' men were talented and if he received the land, he would threaten the rule of Chu.
晚年 Later life
顛沛流離凡十四年,前484年,年近七十歲的孔子被季康子派人迎回魯國尊為國老,但未受魯哀公的任用,這段期間孔子專註於教育和古籍整理。前483年,獨子孔鯉先孔子而死[23]。前481年,顏回先他而去世。孔子有所感慨:「昔從我於陳蔡者,皆不及門也。」哀公十四年夏,齊國陳恒弒其君,孔子齋戒沐浴三天,向哀公懇請伐齊,哀公讓他「去問季孫氏」,後孔子向季康子請求出兵,但被其拒絕。公元前479年3月9日(魯哀公十六年四月己醜日,儒略歷3月9日,格裏歷3月4日,夏歷二月十一),孔子逝世,享年73歲(滿71周歲,虛歲73歲),死後被葬於曲阜城北的泗水岸邊。眾弟子為其服喪3年,子貢為孔子守墓6年。
After wandering for fourteen years, in the year before Year 484 BC, Confucius was welcomed back to the state of Lu by Ji Kangzi as a senior citizen, but he was not appointed by the Duke of Lu. During this time, Confucius focused on education and organizing ancient books. In 483 BC, Confucius's son Kong Li died before his father. In 481 BC, Yan Hui died before him. Confucius expressed his feelings by saying "The disciples who followed me before and suffered hardships between the states of Chen and Cai are no longer with me. In the summer of the 14th year of the Duke of Liao's reign, when Chen Heng of Qi killed his king, Confucius fasted and bathed for three days and pleaded with the Duke of Lu to invade Qi. Emperor Lu told him to 'ask about it from the Jisun family'. Later, Confucius requested military assistance from Ji Kang Zi, but was rejected.  Confucius died on March 9, 479 B.C. (March 9 in the sixteenth year of the Duke of Lu's reign, March 9 in the Julian calendar, March 4 in the Gregorian calendar, February 11 in the summer calendar) at the age of 73 (71 years old, 73 years old in virtual age). He was buried on the bank of the Si River, north of Qufu City. His disciples served him for three years, and Zi Gong guarded his tomb for six years.
回首一生,孔子說:「吾十有五而誌於學,三十而立,四十而不惑,五十而知天命,六十而耳順,七十而從心所欲,不逾矩。」
When looking back on his life, Confucius said, "At fifteen I set my mind to study, at thirty I was able to stand in the world, at forty I was no longer confused about things, at fifty I knew what could not be dictated by human hands and was happy to know what to do, at sixty I was able to listen to all kinds of different opinions, and at seventy I could do as I pleased, take what I wanted, but not go beyond the rules."
思想方面 Aspects of thought
「仁」的人生哲學 The philosophical aspect of life with the concept of benevolence
孔子會針對不同的弟子與不同的時機來講述「仁」,因材施教。大致來說,孔子的「仁」就是曾子所說的「忠恕」二字而已。孔子又說:「剛毅、木訥,近仁」、「巧言令色,鮮矣仁」在告訴我們「仁道」就是真誠踏實,切忌浮誇不實而違逆正道。
Confucius would speak about "benevolence" to different disciples and at different times, and teach according to their abilities. Generally speaking, Confucius' "ren" is just the word "loyalty and forgiveness" as Zeng Zi said. Confucius also said, "A person who is strong, resolute, simple, and careful with his words is close to benevolence." And "Those who are flowery and pretentious are rarely benevolent." This is telling us that "benevolence" means being sincere and down-to-earth, not boasting, not telling lies, and going against the right path.
子貢有一次問孔子:「如有博施於民,而能濟眾,何如?可謂仁乎?」孔子說:「何事於仁,必也聖乎!堯舜其猶病諸!夫仁者,己欲立而立人,己欲達而達人。能近取譬,可謂仁之方也已。」孔子告訴子貢行仁不必好高騖遠,從自身做起,再推己及人。
When Zi Gong asked Confucius, "If a person can give general benefits to the people and help them live well, how would you describe them? Can you say that they have the virtue of benevolence?" Confucius replied, "This is not just the virtue of benevolence. It is likely the virtue of a sage! Yao and Shun might be difficult to excel at! A person with the virtue of benevolence desires to establish himself and also desires to establish others. He desires to have everything run smoothly and also desires to make everything run smoothly for others. To extend oneself to others and consider them as oneself is a way to practice the virtue of benevolence."Confucius told Zigong that he did not need to be high-minded in practicing benevolence, but to start from himself and then extend himself to others.
顓孫師誌向太高,孔子認為他的個性可能流於偏激,所以孔子告訴顓孫師行仁的方法有五道:「恭、寬、信、敏、惠。恭則不侮,寬則得眾,信則人任焉,敏則有功,惠則足以使人。」孔子告訴顓孫師行仁要從「嚴以律己,寬以待人」著手。對於自己的修養要嚴謹,對待別人則是恭敬寬容,又能厚待別人,如此才是行仁的方法。
Xuansun Shi was overly ambitious, and Confucius believed that his personality may have inclined towards extremism. Therefore, Confucius told Xuansun Shi that there were five ways to practice kindness: "With respect, generosity, honesty, diligence, and charity. If you are respectful, you will not invite insults; if you are generous, you will be supported by the people; if you are honest, you will be appointed by others; if you are diligent and sensitive, you will achieve merit; and if you are merciful, you will be able to call on people." Confucius told his students to practice benevolence by being "strict with oneself and generous with others. The way to practice benevolence is to be strict in one's own cultivation, respectful and generous to others, and generous to others.
顏淵是孔門弟子中的模範生,孔子曾稱贊他「其心三月不違仁」。孔子只希望他能用「禮」來進一步約束自己就可以了。《論語·顏淵》一章:「顏淵問仁。子曰:『克己復禮為仁。一日克己復禮,天下歸仁焉。為仁由己,而由人乎哉?』顏淵曰:『請問其目。』子曰:『非禮勿視,非禮勿聽,非禮勿言,非禮勿動。』顏淵曰:『回雖不敏,請事斯語矣。』」
Yan Yuan was an exemplary student among the disciples of Confucius. Confucius once praised him, 'his heart never leaves benevolence for a long time.' Confucius only wanted him to use "etiquette" to further discipline himself. (Yan Yuan asked for advice on how to practice benevolence.) Confucius said, "To be able to restrain and restrain one's selfish desires and return one's behavior to the requirements of propriety is the practice of benevolence. Once a person has done so, then the people of the world will praise him as a benevolent person. To do benevolent things is to rely entirely on oneself; so how can one rely on others?" Yan Yuan said, "I hope to point out some specific actions to follow." Confucius said, "Do not look at what is not according to propriety, do not listen to what is not according to propriety, do not say what is not according to propriety, and do not do what is not according to propriety." Yan Yuan said, "Although I am not intelligent enough, but please allow me to practice what you have said." 
冉雍品德優良,又有政治才幹,曾任季氏宰。當他問仁時,孔子說:「出門如見大賓,使民如承大祭。己所不欲,勿施於人。在邦無怨,在家無怨。」孔子的回答比較偏向政治層面。孔子告訴冉雍行仁的方法就是待人恭敬,使民寬愛,如此一來,大眾對你都沒有怨恨,就是行仁政。
Ran Yong, who had excellent moral character and was talented in political affairs. He served as the minister of Ji Family. When he asked him about benevolence, Confucius said, "To go out is like going to meet a distinguished guest, and to serve the people is like going to undertake a great ritual. Do not impose on others what you do not want. There is no complaint when you work in a state, nor when you work in the fief of a great minister. Confucius' answer is more on the political side. Confucius told Ran Yong that the way to practice benevolence is to treat people with respect and make them love you generously, so that the public will have no grudge against you, it is to practice benevolent governance. 
司馬牛言多而躁。當他問起孔子什麽是仁,孔子告訴他「仁者其言也讱」,揭示慎言的重要。
Sima Niu talked a lot and was impatient. When he asked Confucius what benevolence was, Confucius told him, "A benevolent man is always careful in his speech," revealing the importance of careful speech.
當子貢問仁時,孔子用比喻的手法來告訴他「以友輔仁」的重要:「工欲善其事,必先利其器。居是邦也,事其大夫之賢者,友其士之仁者。」
When Zigong asked about "benevolence", Confucius told him the importance of "helping benevolence with friends" by using a metaphor: "If a worker wants to be good at his job, he must first sharpen his tools. To live in this country, one must serve the virtuous among the minister and befriend the benevolent among the scholars.
孔子又諄諄告誡我們:「當仁,不讓於師」、「無求生以害仁,有殺身以成仁」以及「君子去仁,惡乎成名?君子無終食之間違仁,造次必於是,顛沛必於是」。
Confucius also warned us in earnest: "Whenever you encounter a matter of benevolence and justice, you must do it quickly. Even in the face of their own teachers, there is no need to be humble. Confucius also admonished us, "Never do anything to the detriment of benevolence out of greed for life and death, but only to preserve it through courageous sacrifice. And "How does a gentleman make his reputation? A gentleman does not deviate from benevolence even in a short time like eating a meal. This is true when he is in a state of uncertainty and urgency, and it is also true when he is in exile and confusion.
「禮」的社會秩序 The social order of propriety
禮,就是「節製」,宋明儒者也解作「理」。《司馬遷·太史公自序》有:「禮以節人,樂以發和。」
Ritual means "temperance", The Song and Ming Confucianism also interpreted it as "reason". In the Preface of Sima Qian – Taishigong, there is: "Rites to temper people, music to develop harmony.
我們來看孔子對於禮的闡釋:Let's look at Confucius' interpretation of propriety:
《論語·泰伯》:「子曰:『恭而無禮則勞,慎而無禮則葸,勇而無禮則亂,直而無禮則絞。』」
禮,也是「真情」,而且在上位者必須作為人民的表率。所以孔子接著說:
『君子篤於親,則民興於仁;故舊不遺,則民不偷。』
禮,不是浪費鋪張,而是真情流露;寧願節儉簡陋,也不奢侈浮誇:
《論語·八佾》:「林放問禮之本。子曰:『大哉問!禮,與其奢也,寧儉;喪,與其易也,寧戚。』」
《論語·陽貨》:「子曰:『禮雲禮雲,玉帛雲乎哉?樂雲樂雲,鐘鼓雲乎哉?』」
禮,是對天地萬物的尊重。借由對禮法的好問,來表達自己對於天地的敬意:
《論語·八佾》:「子入太廟,每事問。或曰:『孰謂鄹人之子知禮乎?入太廟,每事問。』子聞之,曰:『是禮也。』」
The Analects of Confucius – Taibo: " Confucius said: 'If you are respectful but not courteous, you will be tired and weary; if you are cautious and careful but not courteous, you will be timid and fearful; if you are brave but not courteous, you will be reckless and disorderly; if you are outspoken but not courteous, you will be sharp and harsh.
Courtesy, too, is "true feeling," and those in positions of authority must serve as an example to the people. Therefore, Confucius goes on to say:
"If a leader can truly love his relatives, then the people will revere benevolence and love; if a leader can truly love the old, then the people will not be indifferent and heartless.
Courtesy, is not wasteful, but the flow of true feelings; rather frugal and simple, not extravagant and exaggerated:
In the Analects, in the section about the "Eight Rows of Dancers," Lin Fang asked about the essence of propriety. Confucius said, "Your question is of great significance. As for propriety, it is better to be simple and frugal rather than pursue external extravagance. As for mourning, it is better to truly feel sorrow in one's heart than to focus only on the formalities of the ceremony."
In the Analects, Yang Huo recorded that Confucius said, 'Is the term "li" (rites/propriety) only referring to the ritual vessels such as jade and silk? Is the term "yue" (music) only referring to musical instruments such as bells and drums?
Propriety is the respect for all things in heaven and earth. By asking about the principles of propriety, one can express their reverence for heaven and earth.
In the Analects, in the section about the "Eight Rows of Dancers," talking about when Confucius entered the temple, he asked detailed questions about every matter he encountered. Someone said, "Who says that the son of a great official of Zuoyi knows manners? When he entered the temple, he asked people about everything." When Confucius heard this, he said, "This is exactly what propriety is.
君子與小人 gentlemen and petty people
君子與小人雖然是以身份地位區分開來的,但孔子不認為這是唯一的差別,更重要的在於修養和境界。對此孔子有很多說明,如他說:「君子中庸,小人反中庸。」中庸(「不偏不倚,無過不及」),是修養的最高境界,同時也是方法,有著豐富而精微的內涵,並提出(「君子正其衣冠,尊其瞻視,儼然人望而畏之,斯不亦威而不猛乎」)的說法,表示端正服飾是君子的重要大事。近百年來,不少人反感於中庸,大概是將它誤解為同流合汙、媚世自是、毫無原則的偽君子行徑,其實這樣的鄉願也正是孔子所深惡痛絕的,他說:「鄉願,德之賊也。」他認為,如果不能達到中庸,狂狷是次好的境界,畢竟「狂者進取,狷者有所不為」。
Although gentlemen and petty people are distinguished by their status and position, Confucius did not believe that this was the only difference. The more important distinction lies in one's self-cultivation and state of mind. Confucius had many explanations for this, such as his saying "The gentleman is moderate, the petty person is extreme." Moderation ("not leaning to one side or the other, without excess or deficiency") is the highest level of self-cultivation and also a method that has rich and profound connotations. Confucius also proposed that "The gentleman should dress properly, not look askance, and be dignified enough to awe people. Isn't this being awe-inspiring without being ferocious?" This shows that dressing properly is an important matter for a gentleman. In the past century, many people have opposed moderation, probably because they have misunderstood it as the behavior of a hypocrite who goes along with the crowd and has no principles. In fact, this is exactly what Confucius hated the most. He said, "Those who follow the wishes of their village are people who destroy morality." He believed that if one cannot achieve moderation, being bold and resolute is the next best state, as "Those who are bold have a spirit of enterprise, while those who are resolute refuse to do what they know is wrong."
孔子又說:
「君子喻於義,小人喻於利。」
「君子博學於文,約之以禮,亦可以弗畔矣夫!」
「質勝文則野,文勝質則史,文質彬彬,然後君子。」
「君子坦蕩蕩,小人長戚戚。」
「君子食無求飽,居無求安,敏於事而慎於言,就有道而正焉,可謂好學也已。」
「君子道者三:仁者不憂,知者不惑,勇者不懼。」
「君子不以言舉人,不以人廢言。」
「君子泰而不驕,小人驕而不泰。」
「君子固窮,小人窮斯濫矣。」
「君子周而不比,小人比而不周。」
「君子和而不同,小人同而不和。」
「君君臣臣父父子子。」
Confucius also said,
A gentleman knows great righteousness, but a petty man knows only small profits.
A gentleman learns cultural knowledge extensively and then uses propriety to restrain himself, so he will not deviate from the right path.
 If a person is too rustic and lacks literary skills, he or she will look vulgar; if a person is too literary and not rustic enough, he or she  will look frivolous. Only when rusticity and literary talent are combined in a good way can one be called a gentleman." 
A gentleman is honest and magnanimous, with an open mind, while a petty person is petty and calculates gains and losses, full of worries and fears.
A gentleman does not seek to eat to fullness; does not seek comfort in living; is diligent and quick in work, but cautious in speech; approaches those who have morality and knowledge to learn from them, corrects their own shortcomings, and can be considered a good learner.
The way of a gentleman has three aspects: A person of benevolence and virtue does not worry; a person of intelligence and wisdom is not perplexed; a person of courage is not afraid.
A gentleman will not recommend someone merely because their speech is eloquent, nor will they disregard the well-intentioned advice of someone with a poor moral character.
A gentleman is calm and composed without arrogance or rudeness, while a petty person is arrogant and rude without calmness or composure.
A person of noble character, even if impoverished, can still adhere to high moral principles, while a person of low character, once impoverished, will behave recklessly!
Virtuous people broaden their social circle with the right way, but do not collude with each other. People with low character collude with each other but do not care about morality.
A gentleman seeks harmony without compromising his principles, while a petty person seeks complete agreement without regard for coordination.
A ruler should act like a ruler, a subject should act like a subject, a father should act like a father, and a son should act like a son.
教育方面  In the aspect of education
孔子主張育德為先,後以全面發展「誌於道,據於德,依於仁,遊於藝。」,「行有余力,則以學文。」
Confucius advocated prioritizing moral education, and then developing a comprehensive approach of "pursuing the Way, grounding oneself in virtue, relying on benevolence, and enjoying the rites of music, archery, charioteering, calligraphy, and mathematics." "Young people should be filial to their parents, respect their teachers and elders, be diligent and trustworthy, show love to others, and associate with benevolent and ambitious individuals. Only by easily achieving these things can one engage in theoretical research."
有教無類:人都有受教育的權利 Education without discrimination: Everyone has the right to education.
因材施教:了解學生根據不同的人與個性,進行洽如其分的教導「不憤不啟 不悱不發。舉一隅不以三隅反 則不復也。」
Teach according to the student's aptitude: Understand the student's background and personality, and provide tailored teaching. 'If the student cannot understand even after trying hard, do not try to enlighten them. If the student understands but cannot express themselves clearly, do not try to inspire them.
實事求事:「知之為知之,不知為不知,是知也。」
Seek truth from facts: 'Knowing what you know, and knowing what you don't know, that's real wisdom.
知行合一:「學而不思則罔,思而不學則殆。」
Unity of knowledge and practice: 'Learning without thinking leads to confusion; thinking without learning results in being detached from reality and perplexed.'"
學以致用:「知百工居肆,以成其事,君子學以致其道。」
Applying knowledge to practice: craftsmen of all trades should spend their whole day completing their assigned tasks in the workshop, while a noble person should spend their entire life learning to achieve the ultimate goal of realizing the way."
哲學方面 philosophy aspect
孔子提倡中庸之道,中庸就是以中為用的意思,意義就是折中、平衡、不偏不倚,力戒片面,「樂而不淫,哀而不傷」、「溫而厲, 威而不猛」。
Confucius advocated the doctrine of the Mean, which means taking the middle course, balancing extremes, avoiding one-sidedness, and striving for harmony. He emphasized the importance of moderation and self-restraint, saying "Happiness is not without limits, and sorrow is not without relief," and that one should be gentle yet serious, dignified yet peaceful, and imposing yet not fierce.
權變:孔子強調執中但並不執泥強調不要頑固可以變通,「可與立,未可與權」「不得中行而與之,必也狂狷乎!狂者進取,狷者有所不為也。」
Expediency: Confucius emphasized the importance of maintaining balance, but not becoming stubborn and inflexible. He stressed the need to be adaptable, saying, 'You may be able to follow ritual with someone, but you may not be able to be flexible with them.' 'If you cannot find someone who behaves according to the doctrine of the Mean, you should only associate with those who are brave and self-disciplined. Brave people strive for progress, while self-disciplined people do not engage in bad behavior.' Brave people are aggressive and self-disciplined people are honest, and neither engage in wrongdoing.
政治方面 political aspect
治理:孔子懷念周公,欲從周禮,希望「齊一變至於魯,魯一變至於道。」主張德治與禮治,用禮樂教化治理國家,政令刑罰居次。遵循堯舜之道,效法周文王、周武王之製。
Governance: Confucius recalled Duke Zhou and wanted to follow the Zhou Li, hoping that "if the politics of Qi can be reformed, it can reach the level of Lu; if Lu can be reformed, it can reach the realm of conforming to the great way." He advocated the governance of virtue and ritual, using ritual and music to educate and govern the country, and placing political laws and penalties in a secondary position. He followed the way of Yao and Shun, and emulated the system of King Wen and King Wu of Zhou.
經濟:孔子維護西周的井田製反對季康子的以田賦,展現了保守的立場。
Confucius defended the system of well-field land distribution during the Western Zhou Dynasty and opposed Jikangzi's taxation based on land, demonstrating a conservative position in economics.
宗教觀 religious views
孔子傾向不可知論,或者理性主義[來源請求],孔子對宗廟中的祭禮很有研究,當作一種社會禮節來從事,但反而對宗教不太涉獵,最有名的一句是「子不語怪力亂神」;其他還有「天何言哉?四時行焉,百物生焉,天何言哉?」;「敬鬼神而遠之」;「未能事人,焉能事鬼?」所以目前一般認為孔子相信「或許有鬼神」,但更註重現實,認為「不用討論鬼神」。
Confucius leaned toward agnosticism or rationalism [source needed]. He studied the ancestral worship rites in the temple as a social etiquette, but was not very involved in religion. His most famous saying on this topic is, "Confucius does not talk about strange things, violence, overpowering people, rebellions, or ghosts." Other sayings include, "What has Heaven said? Heaven does not speak, yet the four seasons continue to cycle and all living things continue to grow. What has Heaven said?" "He treats ghosts and spirits with solemnity but keeps them at a distance." "If you cannot serve people well, how can you serve ghosts and spirits?" Therefore, it is generally believed that Confucius believed in "perhaps there are ghosts and spirits," but he placed more emphasis on reality and believed that "there is no need to discuss ghosts and spirits."
但孔子對天神也沒有否定,孔子說過:「鬼神之為德,其盛矣乎!」由「獲罪於天,無所禱也。」;「天生德於予,桓魋其如予何?」可知其為宿命論者:由「不知天命,無以為君子」,可知孔子是天命論者,可能認為有一個「人格天」的存在。
However, Confucius did not deny the existence of heavenly deities. Confucius once said, "The virtues of the spirits and gods are truly immense! Though they cannot be seen or heard, they are reflected in all things and people cannot do without them." From "If a person offends heaven, he has nowhere to pray to.", and "My character is bestowed by Heaven; what can Huan Tui do to me?", it can be inferred that he was a believer in predestination. From "Without understanding the mandate of Heaven, it is impossible to become a junzi," it can be seen that Confucius believed in the mandate of Heaven and may have believed in the existence of a "personality heaven."
也有解釋為,孔子幾乎是無神論者[來源請求]。所謂的「獲罪於天」只是說「犯下滔天大罪」,並不指得罪上天。「天生德於予,桓魋其如予何?」只是認為「自己是正義而必勝」。所謂的「天命」,只是說「崇高的使命」而已:「鬼神之為德,其盛矣乎」是告訴弟子們「祭祀的意義」,且孔子在《論語》中「多次不願討論鬼神」的作為,可能接近無神論,但孔子因為時代因素等並不願直述。
There is also an explanation that Confucius was almost an atheist [citation needed]. The so-called 'offending Heaven' just means 'committing a heinous crime', and does not refer to offending God. 'My character is given to me by Heaven, how can Huan Tui harm me!' means only that 'I am just and must prevail'. The so-called 'mandate of Heaven' just means 'a lofty mission': 'The virtues of ghosts and gods are truly great!' is to tell his disciples the meaning of sacrifices. Confucius refused to discuss ghosts and gods many times in the Analects, which may be close to atheism, but due to the factors of the times, Confucius was not willing to state it directly.
孔子所處的春秋時代,西周社會以血緣氏族為基礎的政治製度崩潰瓦解,一些人開始思考天道、人生和世界秩序等方面的問題,原先由貴族所壟斷的文化教育也正逐漸流入民間。孔子正是這時代精神的代表人物之一,遂開戰國諸子百家之先河。《易傳》、《春秋》、《孝經》、《論語》是了解其本人思想的主要著作。
In the Spring and Autumn period when Confucius lived, the political system based on blood kinship clans in the Western Zhou society had collapsed and disintegrated. Some people began to contemplate issues related to the will of heaven, human life, and world order. The cultural and educational opportunities that were previously monopolized by the aristocracy were gradually spreading to the general population. Confucius was one of the representative figures of this era and pioneered the study of various schools of thought in the Warring States period. The main works to understand his own thoughts include "Book of Changes", "Spring and Autumn Annals", "Classic of Filial Piety", and "Analects".

孔子開創了易學,並由他率先提出了「性善論」(「一陰一陽之謂道,繼之者善也,成之者性也」)作為其「仁學」的哲學基礎,他辯論仁義,「分陰分陽,疊用柔剛」,「曰仁曰義」,又論及六畫,「六位而成章(彰)」。
為政之道 The principles of ruling
正名是孔子最重要的政治主張。可以從下面這個故事來徹底了解孔子「正名」的涵義:
Rectifying names is Confucius's most important political proposition. We can thoroughly understand the meaning of Confucius's "rectifying names" from the following story:
當孔子三度至衛時,衛國發生了一件大事。原來先前衛靈公寵愛夫人南子,想要把公位傳給南子的庶子。於是,嫡長子蒯聵便企圖暗殺南子以保公位。不幸謀殺計劃未成,而衛靈公得知此一消息之後勃然大怒,欲弒子蒯聵。蒯聵逃亡至晉,衛靈公便與晉國宣戰。就在衛靈公想要請教孔子有關兵陣之事時,孔子說:「俎豆之事,則嘗學之。軍旅之事,未之學也。」隔天孔子便感慨萬千地離開衛國。現在靈公過世,蒯聵又不在國內,蒯聵子輒便繼承公位,是為衛出公。但是,就在此時,蒯聵亦在晉軍護送下回到衛國,父子便為了爭奪公位而反目成仇。孔子看在眼裏十分傷心。有一天,子路問孔子:「衛君待子而為政,子將奚先?」孔子便對子路不厭其煩地說:「名不正則言不順,言不順則事不成,事不成則禮樂不興,禮樂不興則刑罰不中,刑罰不中則民無所措手足。」
When Confucius visited the state of Wei for the third time, a major incident occurred. Previously, the Duke of Wei had favored his wife Lady Nanzi and wanted to pass the title to her illegitimate son. The legitimate heir, Kuai Kui, attempted to assassinate Lady Nanzi in order to keep the title. Unfortunately, the assassination plan failed, and the Duke of Wei became furious upon learning of the plot, intending to kill Kuai Kui. Kuai Kui fled to the state of Jin, and the Duke of Wei declared war on Jin. When the Duke of Wei wanted to consult Confucius about military strategy, Confucius said, "I have heard about the rituals and ceremonies, but I have never learned about the use of force in war." The next day, Confucius left Wei with deep sorrow. After the Duke of Wei died, Kuai Kui's son succeeded to the title and became Duke Chu of Wei. However, at the same time, Kuai Kui returned to Wei under the escort of Jin's army, and father and son became enemies in their struggle for power. Confucius was deeply saddened by this. One day, Zilu asked Confucius, "If the ruler of Wei asked you to govern the state, what would you start with?" Confucius repeatedly said to Zilu, "If names are not correct, language will not be in accordance with the truth of things. If language is not in accordance with the truth of things, affairs cannot be carried on to success. When affairs cannot be carried on to success, proprieties and music will not flourish. When proprieties and music do not flourish, punishments will not be properly awarded. When punishments are not properly awarded, the people do not know how to move hand or foot.

正名的目的在於維系一個秩序良好的社會,使人們有一定的規範遵循,而不致生活在一種不可預期的狀態之中。很多人認為孔子希望能夠恢復西周的禮樂,也有一些人認為他只是以復古的名義鼓吹一種新的世界秩序。
The purpose of "zhengming" is to maintain a well-ordered society, so that people have certain norms to follow, and not to live in an unpredictable state. Many people believe that Confucius hoped to restore the rites and music of the Western Zhou dynasty, while others believe that he was advocating a new world order in the name of restoration.
立信,對於孔子而言,不僅是個人的美德,而且是一個基本的政治原則。子貢請教為政的要點,孔子說:「足食,足兵,民信之矣。」而其中最重要的是第三點,他說:「自古皆有死,民無信不立。」Integrity is not only a personal virtue for Confucius, but also a fundamental political principle. When Zigong asked for the key points of governance, Confucius said, 'Adequate food supply, adequate military preparation, and the trust of the people in the government.' The most important among them is the third point, and he said, 'Since ancient times, no one can escape death, but if a country cannot gain the trust of the people, it will be difficult for the country to stand firmly.
德治,孔子認為:「道之以政,齊之以刑,民免而無恥。道之以德,齊之以禮,有恥且格。」孔子曾任掌刑罰的大司寇,他怎會不知道嚴刑峻罰立竿見影的效果呢?但是,孔子深深感受到「民免而無恥」的社會隱憂,所以才提倡用道德倫理來教化人民,徹底洗滌人心,激發人的善性,才是經世濟民的正途。
In terms of moral governance, Confucius believed that "by using moral education to guide the people and using ritual to unify their behavior and speech, the people will not only have a sense of shame but also follow the rules." Confucius served as the chief magistrate in charge of punishments, and he knew well the immediate effects of severe penalties. However, he deeply felt the hidden danger in society that "the common people only seek to avoid punishment and loss of reputation, but have lost their sense of integrity." Therefore, he advocated using moral ethics to educate the people, thoroughly purifying their hearts, and stimulating their innate goodness, which is the correct way to govern the world and benefit the people.

教育理念與教學實況 Educational philosophy and teaching practices
孔子教學的項目有四:文、行、忠、信。[24]文,指詩書禮樂等古代文獻;行,是德行;忠,意指盡心盡力;信,即為誠實無欺。孔子對於古代文獻十分重視,尤其是詩、禮、樂。他認為這三項學問對於人的性情養成非常重要。《論語·泰伯》:子曰:「興於詩,立於禮,成於樂。」詩,可以使人興起好善惡惡之心;禮,使人進退得宜,進而可以立身於世;樂,可以使人養成完美的人格。順道一提,孔子曾經這樣稱贊詩經:「小子,何莫學夫詩!詩,可以興,可以觀,可以群,可以怨。邇之事父,遠之事君,多識於鳥獸草木之名。」
Confucius had four teaching subjects: literature, conduct, loyalty, and honesty. Literature refers to ancient texts such as poetry, books, rituals, and music. Conduct refers to moral behavior, loyalty refers to giving one's all, and honesty refers to being truthful and not deceitful. Confucius highly valued ancient texts, especially poetry, rituals, and music. He believed that these three subjects were essential for developing one's character. In the Analects, he said, "We begin with the study of poetry, we establish ourselves on the basis of the rites, and we complete our education with music." Poetry can inspire people to do good or evil, rituals can guide people in their actions, and music can cultivate one's character. It is worth noting that Confucius praised the Book of Poetry in this way: "Why don't you learn poetry? Learning poetry can arouse your passion, improve your observation skills, unite the people, and express your dissatisfaction. It can serve your parents and rulers, and you can also learn the names of birds, beasts, trees, and plants.
學不厭、教不倦,使孔子成為中國的「大成至聖先師」。他主張「有教無類」,學生多至三千人,從《論語》書上看來,他教導學生的只是人生日常所必經問題的解答,以及人與人相處所必備條件的闡明。其道合理而平凡,易知易行;然而用之於身則身修,用之於家則家齊,用之於國則國治,用之於天下則天下平。
He never found learning tedious nor teaching tiresome, and this made Confucius the 'Great Accomplished and Saintly Teacher' of China. He advocated 'teaching without discrimination', and had as many as three thousand disciples. From what can be gleaned from The Analects, he only taught the answers to problems encountered in everyday life, and expounded on the necessary conditions for getting along with others. His teachings were reasonable and plain, easy to understand and practice. When applied to oneself, self-cultivation is achieved; when applied to the family, harmony is attained; when applied to the country, good governance is realized; when applied to the world, peace is achieved.

三千弟子和七十二位精通六藝的弟子 Three thousand disciples and seventy-two disciples proficient in the six arts
據《史記》記載,孔子有弟子三千,其中精通六藝者七十二人,稱「七十二賢人」。 孔子有十位傑出弟子,號稱孔門十哲:
According to "Records of the Grand Historian," Confucius had 3,000 disciples, among whom 72 were proficient in the six arts and were known as the "72 wise men." Confucius also had 10 outstanding disciples, known as the "Ten Philosopher Disciples of Confucius.
在德行方面出眾的有:顏回(顏淵)、閔損(閔子騫)、冉耕(伯牛)、冉雍(仲弓)。
The following Chinese sentence can be translated to English as: "Among them, the outstanding ones in terms of moral character are Yan Hui, Min Sun, Ran Geng, and Ran Yong.

在言語方面出眾的有:宰予(宰我)、端木賜(子貢)。In terms of speech, the outstanding ones are: Zaiyu (Zai Wo), Duanmu Ci (Zi Gong).In terms of speech, the outstanding ones are: Zaiyu (Zai Wo), Duanmu Ci (Zi Gong).
在文學方面出眾的有:言偃(子遊)、蔔商(子夏)。
In terms of literature, the outstanding ones are: Yanyan (Zi You), Boshang (Zi Xia).
在政事方面出眾的有:冉求(冉有)、仲由(子路)。
In terms of political affairs, the outstanding ones are: Ranqiu (Ran You), Zhongyou (Zi Lu).

十哲以外,在文學方面出眾的有顓孫師(子張)、曾參(子輿)、淡臺滅明(子羽)、原憲(子思)、公冶長(子長)、樊須(樊遲)、有若(子有)、公西赤(子華)。
In addition to the Ten Philosophers, those who are outstanding in literature include Zhuansun Shi (Zi Zhang), Zeng Shen (Zi Yu), Dantai Mieming (Zi Yu), Yuan Xian (Zi Si), Gongye Chang (Zi Chang), Fan Xu (Fan Chi), You Ruo (Zi You), Gongxi Chi (Zi Hua).
孔子死後,「七十子之徒散遊諸侯,大者為師傅卿相,小者友教士大夫。」這樣就在政治上打破了貴族壟斷的世卿世祿製,為專製君主自由任免布衣卿相的官僚體製創造了條件。
After Confucius's death, "the disciples of the seventy sons scattered and traveled to various feudal lords. Some became teachers, officials, and ministers, while others became friends, educators, and gentlemen." In this way, the aristocratic monopoly of the hereditary system of officials was broken in politics, creating conditions for the autocratic monarch to freely appoint and dismiss officials from all classes.

整理編修古籍 Compiling and editing ancient texts
相傳孔子作史書《春秋》(《孟子·滕文公下》:「孔子作春秋而亂臣賊子懼」),微言大義,寄托政治理想。(現在一般認為《春秋》是孔子編輯魯國原始史料後寄托其政治理想之作,也有少數學者認為《春秋》非孔子所編撰。)《春秋》一書所載年代(前722年到前481年)就稱為春秋時代。
According to legend, Confucius wrote the historical book "Spring and Autumn Annals" (Mencius, Teng Wen Gong Xia: "Confucius wrote the Spring and Autumn Annals and the treacherous ministers and rebellious sons were afraid"), which contains profound meanings and embodies his political ideals. (It is generally believed that "Spring and Autumn Annals" is a work of Confucius, who edited the primitive historical materials of the state of Lu and incorporated his political ideals, but a few scholars believe that "Spring and Autumn Annals" was not compiled by Confucius.) The period recorded in the book (722 BC to 481 BC) is known as the Spring and Autumn Period.

孔子門人及其再傳弟子將其學說結輯成《論語》,是為研究孔子思想的主要文獻。漢代定型的《禮記》一書中也曾記述孔子的思想(如其中的《大學》 及《中庸》等),又有記錄孔門思想的《孔子家語》一書,傳統上被認為多偽撰,但近年漸得學界重視。
The disciples of Confucius and their successors compiled his teachings into the book "The Analects," which is the main source for studying Confucius' thoughts. Confucius' ideas are also recorded in the Han Dynasty's "Book of Rites," which includes "The Great Learning" and "The Doctrine of the Mean," among others. Another book, "The Sayings of Confucius' Family," also documents the Confucian school of thought, though it has traditionally been considered to be mostly fabricated, but has gained increasing attention from scholars in recent years.

南宋時,朱熹將《論語》以及《禮記》中的《大學》、《中庸》兩篇與反映亞聖孟子思想的《孟子》一書合在一起撰寫了《四書集註》,是謂四書。
During the Southern Song dynasty, Zhu Xi combined the Analects of Confucius, the two chapters "The Great Learning" and "The Doctrine of the Mean" from the Book of Rites, and the Book of Mencius, which reflects the ideas of Confucian philosopher Mengzi, to create the "Collected Annotations on the Four Books", also known as the Four Books.

四書與《詩》(詩經)、《書》(尚書)、《禮》(禮記)、《易》(易經)、《春秋》五部經典合稱「四書五經」,乃儒家學說之核心經典。佚失的《樂經》有關「儒家論樂的一套基本觀點」已經面世。郭店簡原名叫《性自命出》的篇章前半部是專門論樂的。
The "Four Books and Five Classics" refer to the core classics of Confucianism, which include the "Four Books": Analects, Doctrine of the Mean, Great Learning, and Mencius, as well as the "Five Classics": Book of Odes, Book of Documents, Book of Rites, Book of Changes, and Spring and Autumn Annals. The lost "Classic of Music" on the basic views of Confucianism on music has been discovered. The Guodian bamboo slips, originally named "Xing Zi Ming Chu", discuss music in the first half of the chapter.

孔子刪詩書,定禮樂,贊周易,作春秋。
Confucius edited poetry and literature, established ritual and music, praised the Zhou Yi, and wrote the Spring and Autumn Annals.

孔子身後,七世單傳,至第九代才有孔鮒、孔騰、孔樹兄弟三人。孔子後裔秉承祖先「詩禮傳家」之祖訓,在文學、經學等方面都有較大成就,在明清時期更因為得到皇帝扶持,成為「天下第一家」。
After Confucius, his teachings were passed down in an unbroken line of seven generations until the ninth generation, where there were three brothers, Kong Fū, Kong Teng, and Kong Shu. The descendants of Confucius have followed the ancestral instructions of "passing down poetry and rites" and have made great achievements in literature, classics, and other fields. In the Ming and Qing dynasties, they were even supported by the emperor and became known as the "number one family in the world."

祭孔 Confucius worship ceremony
歷代帝王之祀孔子者,自漢高祖始。《漢書·高帝紀》:「過魯,以太牢祠孔子。」而學校祀孔,自明帝始。《後漢書·禮儀誌》:「永平二年,……養三老五更於辟雍;郡、縣、道行鄉飲酒禮於學校,皆祀聖師周公、孔子。」《文獻通考》:「貞觀二年,停祭周公,升孔子為先聖」。蓋自漢以來,雖已舉國崇奉孔子之教,而立廟奉祀,近於宗教性質者,乃由人心漸演漸深,踵事增華之故,初非孔子欲創立一教,亦非僅一二帝王或學者,假孔子之教以愚民也。
The worship of Confucius by successive emperors and kings began with Han Gaozu. According to the "Annals of Emperor Gaozu" in the Book of Han, when passing through the state of Lu, a grand sacrificial ceremony was held using valuable sacrificial offerings such as cattle and sheep to pay homage to Confucius. The practice of schools worshiping Confucius began in the Ming dynasty. According to the "Rites and Ceremonies Record" in the Book of Later Han, in the second year of Yongping reign, the elderly were cared for and fed in the Pi Yong Temple, while counties and prefectures held drinking and worship ceremonies in schools, paying homage to the Holy Teacher Duke Zhou and Confucius. "The Comprehensive Examination of Literature" states that in the second year of the Zhenguan reign, the worship of Duke Zhou was discontinued, and Confucius was elevated to the position of First Holy Sage. Since the Han dynasty, although Confucius' teachings were already revered throughout the country, and temples were established for worship, it was not initially intended to create a religion by Confucius himself. Nor was it only one or two emperors or scholars using Confucius' teachings to deceive the people, but rather, the establishment of Confucianism gradually evolved and deepened due to the increasing number of followers and increasing worship, taking on a religious nature over time.
後人為了紀念孔子,在世界很多地方都有建有孔廟進行祭孔的活動。從1952年開始,在臺灣,孔子的生日被定為教師節。在大陸,改革開放以後隨著中華文化的復興,祭孔活動興起。
In order to commemorate Confucius, many Confucian temples have been built around the world to hold Confucius worship activities. Since 1952, Confucius's birthday has been designated as Teacher's Day in Taiwan. In mainland China, after the reform and opening up, with the revival of Chinese culture, the worship of Confucius has become popular.

孔府、孔廟、孔林 Kong Family Residence, Temple of Confucius, Cemetery of Confucius.
中國山東曲阜的孔廟、孔府、孔林合稱「三孔」是中國歷代紀念孔子,推崇儒學的表征。孔廟始建於公元前478年,歷經2400多年而從未放棄祭祀,是中國使用時間最長的廟宇,也是中國現存最為著名的古建築群之一;孔林是孔丘死後葬身之墓地,延續使用2400多年,不僅是中國也是世界上延用時間最長的氏族墓地;孔子嫡孫保有世襲罔替的爵號,歷時2100多年,是中國最古老的貴族世家,其府第孔府是中國現存規模最大、保存最好、最為典型的官衙與宅第合一的建築群。「三孔」已被聯合國教科文組織列入《世界遺產名錄》。
The "Three Confucian Sites" in Qufu, Shandong, China, which include the Temple of Confucius, the Mansion of Confucius, and the Cemetery of Confucius, are symbols of China's commemoration of Confucius and the promotion of Confucianism throughout history. The Temple of Confucius was first built in 478 BC and has been used for worship for over 2,400 years without interruption. It is the longest-used temple in China and one of the most famous ancient architectural complexes still in existence. The Cemetery of Confucius is the burial site of Confucius and has been used for over 2,400 years, making it not only the longest-used family cemetery in China but also in the world. Confucius' direct descendant held an inherited noble title for over 2,100 years, making it the oldest aristocratic family in China. The Mansion of Confucius, the residence of Confucius' descendants, is the largest and best-preserved existing complex combining government offices and private residences in China. The "Three Confucian Sites" have been included in the UNESCO World Heritage List.

歷代追封追謚 Posthumous titles conferred by successive dynasties
孔子去世後,歷代帝王為彰顯對孔子的尊崇,不斷追封追謚。
The emperors of successive dynasties, to demonstrate their respect for Confucius, continued to posthumously confer titles on him.

孔門十哲The Ten Disciples of Confucius