孔門十哲 The Ten Disciples of Confucius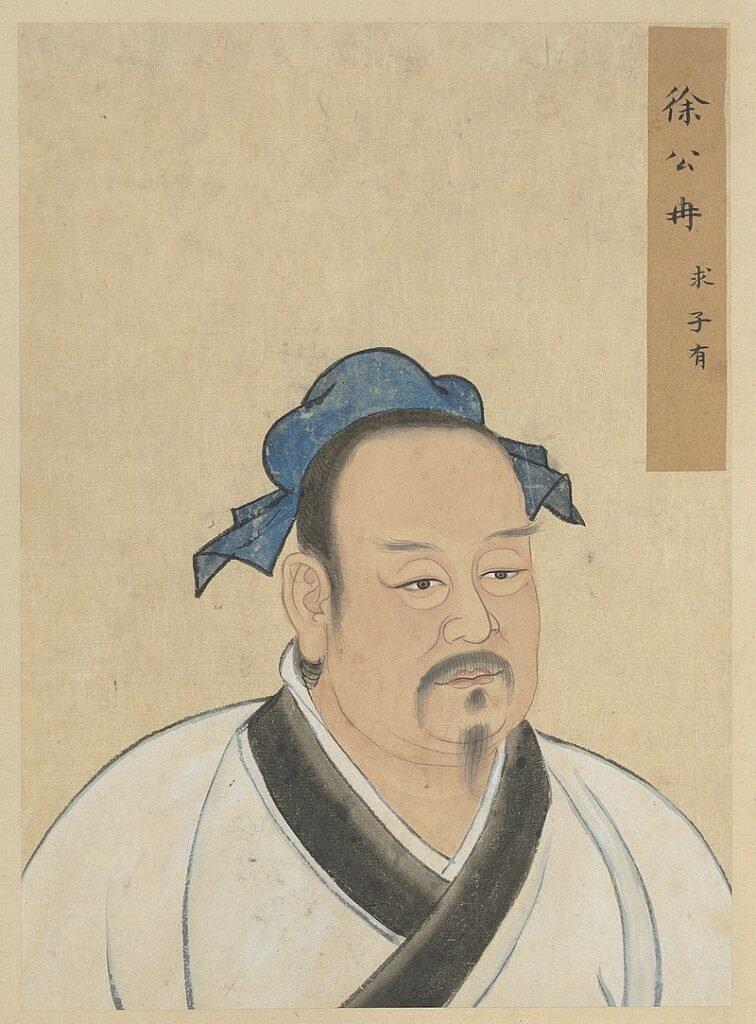 冉求(前522年-?),名求,字子有,亦稱冉有,東周春秋時代魯國(今山東曲阜)人。孔子弟子,少孔子二十九歲。與冉伯牛、冉仲弓同族。
冉有多才多藝、性格謙遜、長於政事。政治能力較強,名列「孔門十哲」之政事科。
Ran Qiu (522 BC – ?), also known as Ziyou and Ran You, hailed from the State of Lu, located in present-day Qufu, Shandong province, during the Eastern Zhou Dynasty in ancient China. He was one of Confucius' disciples and was 29 years younger than him. Ran Qiu was related to Ran Boniu and Ran Zhonggong, and he was a versatile and modest individual with exceptional political skills. He excelled in politics and was included in the "Ten Accomplished Disciples" of Confucius under the political category.
魯昭公二十年(前522年)出生。孔子仕魯期間,擔任孔子的家臣。孔子離魯。周遊列國,冉求也追隨孔子。哀公年間,冉求回魯,成為季康子的家臣,魯哀公十一年(前484年),冉有從衛國接孔子回到魯國。孔子晚年歸隱魯國,冉有出力不少。
Ran Qiu was born in the 20th year of Lu Zhao Gong's reign (522 BC). During Confucius' service in Lu, he served as one of his attendants. When Confucius left Lu and traveled to other states, Ran Qiu followed him. During the reign of Ai Gong, Ran Qiu returned to Lu and became an attendant of Ji Kang Zi. In the 11th year of Lu Ai Gong's reign (484 BC), Ran Qiu was instrumental in bringing Confucius back to Lu from the state of Wei. In Confucius' later years when he retired to Lu, Ran Qiu continued to make significant contributions.
冉有曾為季氏征稅而被孔子責備,《論語·先進篇》記載:「季氏富於周公,而求也為之聚斂而附益之。子曰:非吾徒也,小子鳴鼓而攻之可也!」《論語·先進篇》也有一篇《子路、曾皙、冉有、公西華侍坐》:冉求表達了自己願治方圓六七十裏或五六十裏的小國,能使足民,一說是人口充足,一說是民眾富足。
In "The Analects of Confucius," it is recorded that Ran Qiu was once criticized by Confucius for collecting taxes for the wealthy Ji family, who were even richer than the lords in the Zhou dynasty. Confucius said, "He is not one of my disciples. You may beat the drum and attack him." In another chapter, titled "Zilu, Zeng Xi, Ran You, and Gongxi Hua Sat Together," Ran Qiu expressed his desire to govern a small state with a radius of 60 to 70 li (a traditional Chinese unit of distance) and ensure that the people are satisfied and prosperous.

孔子稱贊其才可於千戶大邑,百乘兵馬之家,勝任總管職務;
孔子:「所謂大臣者:以道事君,不可則止。今由與求也,可謂具臣矣。」
孔子:「若臧武仲之知,公綽之不欲,卞莊子之勇,冉求之藝,文之以禮樂,亦可以為成人矣。」Confucius praised Ran Qiu's talent and said that he was capable of managing a large household or serving as a general in charge of a thousand households;
Confucius said, "The so-called great ministers should be able to serve the monarch in a way that conforms to the principle of benevolence. If this is not possible, they would rather not do it. Now, these two people, Yu and Qiu, can only be regarded as courtiers who are there in name only."
Zilu asked Confucius what makes a perfect person. Confucius replied, "A perfect person should possess wisdom like Zang Wu Zhong, be free from greed like Meng Gong Chuo, be courageous like Bian Zhuang Zi, be talented like Ran Qiu, and refine his manners and tastes with the practice of ritual and music."
歷代追封 Posthumous titles throughout history
唐贈徐侯,宋封彭城翁,後封徐公。Tang dynasty conferred the title of Xu Hou, while Song dynasty enfeoffed him as Peng Cheng Weng and later as Xu gong.
孔門十哲 The Ten Disciples of Confucius