孔門十哲 The Ten Disciples of Confucius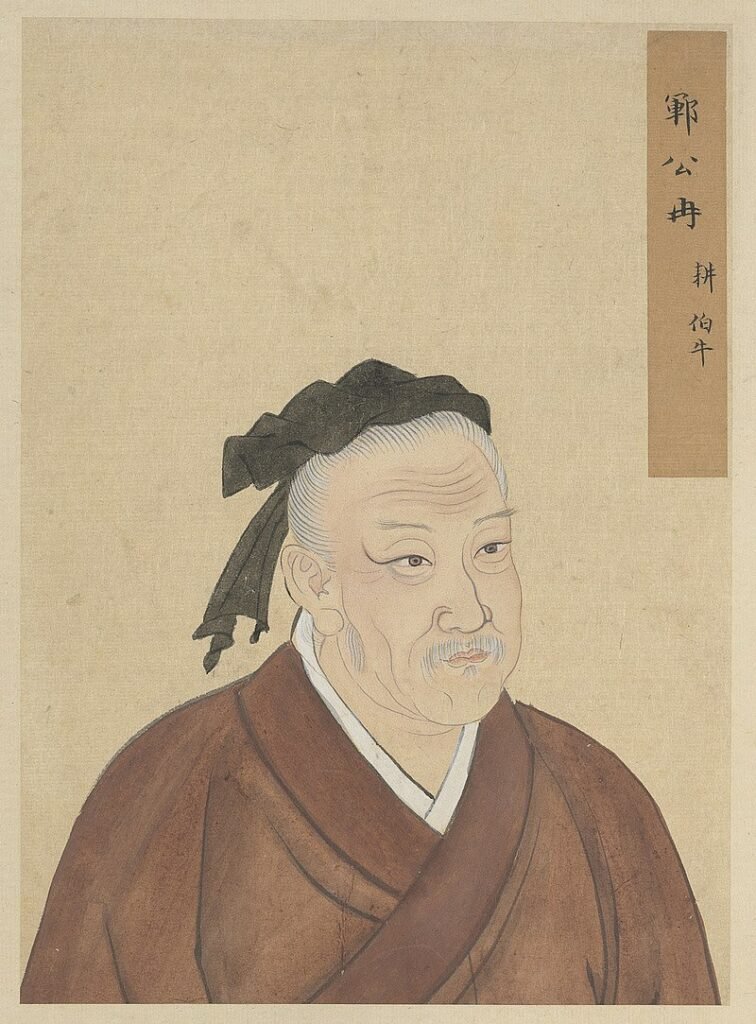 冉耕(前544年-?),冉氏,字伯牛。中國春秋時代末魯國人,是孔子的學生,孔門十哲之一,曾任魯國的中都宰,孔子很器重他。伯牛患病早逝,孔子十分難過。
Ran Geng (before 544 BC – ?), also known as Boniu, was a native of the State of Lu during the late Spring and Autumn period in China. He was a student of Confucius and counted among the Ten Disciples of Confucius. He held the position of governor in the State of Lu, and Confucius had a high opinion of him. Regrettably, Boniu passed away at a young age due to illness, which deeply grieved Confucius.
伯牛與顏淵、閔子騫、冉雍同屬孔門十哲的德行科哲人。伯牛與冉雍同宗。
Boniu, along with Yan Hui, Min Ziqian, and Ranyong, were among the Ten Disciples of Confucius, who were known for their moral and philosophical excellence. Boniu and Ranyong were also from the same clan.
伯牛患有惡疾時,不願見人。孔子於其病危時,特地去探望他,從屋外窗口握住他的手,邊嘆息邊說:「死,是命中註定的啊!可是這樣的人怎麽會有這樣的病,這樣的人怎麽會害這樣的病啊!」伯牛的德行,與顏淵、閔子騫等並駕,無怪乎孔子哭說這是天命。伯牛以德行見稱於孔子,惜全無事跡可考。僅知其是染患惡疾而逝,可能是染上麻瘋病。
When Boniu was afflicted with a serious illness, he did not want to receive any visitors. However, when Confucius learned about his critical condition, he made a special trip to visit him. Standing outside his room, Confucius reached in through the window to hold Boniu's hand and sighed deeply, saying, "Death is predetermined by fate! But how could a man of your virtue be struck by such a terrible disease? How could such a virtuous person be afflicted with such an illness?" Boniu was renowned for his virtues, which were on par with those of Yan Hui and Min Ziqian. It's no wonder that Confucius wept and said that it was heaven's will. Boniu was highly esteemed by Confucius for his virtues, but unfortunately, there is no information about his achievements. All that is known is that he passed away from an illness, possibly leprosy.

孔門十哲 The Ten Disciples of Confucius