孔門十哲 The Ten Disciples of Confucius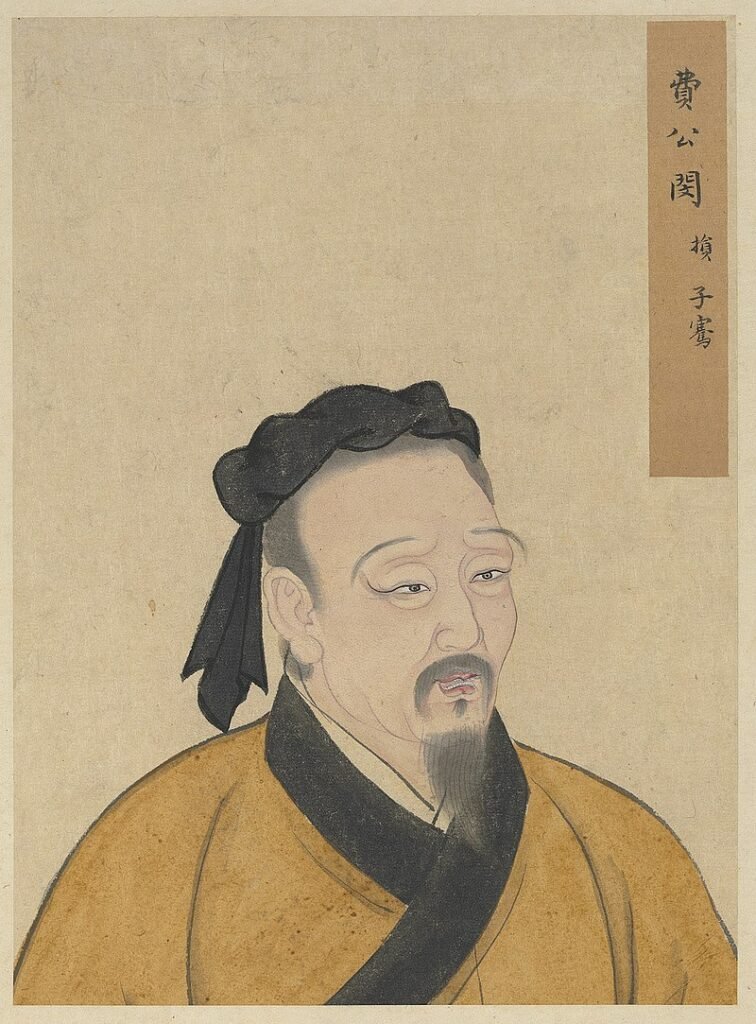 閔子騫(前536年-前487年),閔氏,名損,字子騫,東周春秋末期魯國人。孔子弟子中,孔門十哲之一,以德行修養而著稱,在這方面和顏淵齊名。
Min Ziqian (536 BC – 487 BC), also known as Min Sun or Ziqian, was a citizen of the state of Lu during the late Spring and Autumn period of the Eastern Zhou dynasty. He was recognized as one of the Ten Disciples of Confucius and was renowned for his moral cultivation, being regarded as equally virtuous as Yan Hui.

子騫少年喪母,而繼母偏愛自己親生二子,虐待閔子騫,子騫並不告知父親,避免影響父母間關系。
When Min Ziqian was young, his mother passed away, and his stepmother favored her own two sons and mistreated Min Ziqian. Despite the abuse, Min Ziqian did not tell his father to avoid affecting their relationship.
某年冬天,繼母用棉花給自己孩子做棉襖,假裝給子騫棉襖,但其實內裏填的是蘆葦。一日閔子騫駕馬車送父親外出,因閔子騫寒冷且饑餓,子騫無法馭車,馬車滑入路旁水溝內。父親非常生氣,對他喝斥鞭打,結果抽破衣服露出了蘆花。父親知情後大怒,想休妻。子騫跪父為繼母求情:「母在一子寒,母去三子單。(繼母在,只有我一人受凍;繼母離開,兩個弟弟都要和我一起承受孤單)」父親便不休妻,繼母也痛改前非。
One winter, Min Ziqian's stepmother pretended to make a cotton-padded jacket for him, but instead filled it with reeds, reserving the genuine jackets for her own children. One day, while driving his father in a carriage, Ziqian was cold and hungry, causing him to lose control of the carriage, which slid into a roadside ditch. His father was infuriated and lashed out at him, tearing the jacket and exposing the reeds. Upon discovering his stepmother's deception, he was determined to divorce her. Ziqian knelt before his father and pleaded with him to spare his stepmother, saying "While mother was alive, I alone suffered in the cold. But if she is gone, my two brothers will share the same loneliness with me." His father ultimately relented and forgave his stepmother, who promised to change her ways.
其後求學於孔子,孔子仕魯期間季氏曾聘請他出任費宰,閔損婉拒說:「善為我辭焉。如有復我者,則吾必在汶上矣。 (請替我婉言謝絕。如果再請我,我必定躲去外國)」

Min Ziqian studied under Confucius, and during Confucius' service in the state of Lu, a person named Ji invited him to serve as governor of the state of Fei. Min Ziqian politely refused, saying, "Please find a way to refuse for me tactfully. If they ask me again, I will have to hide in other places."
孔門十哲 The Ten Disciples of Confucius