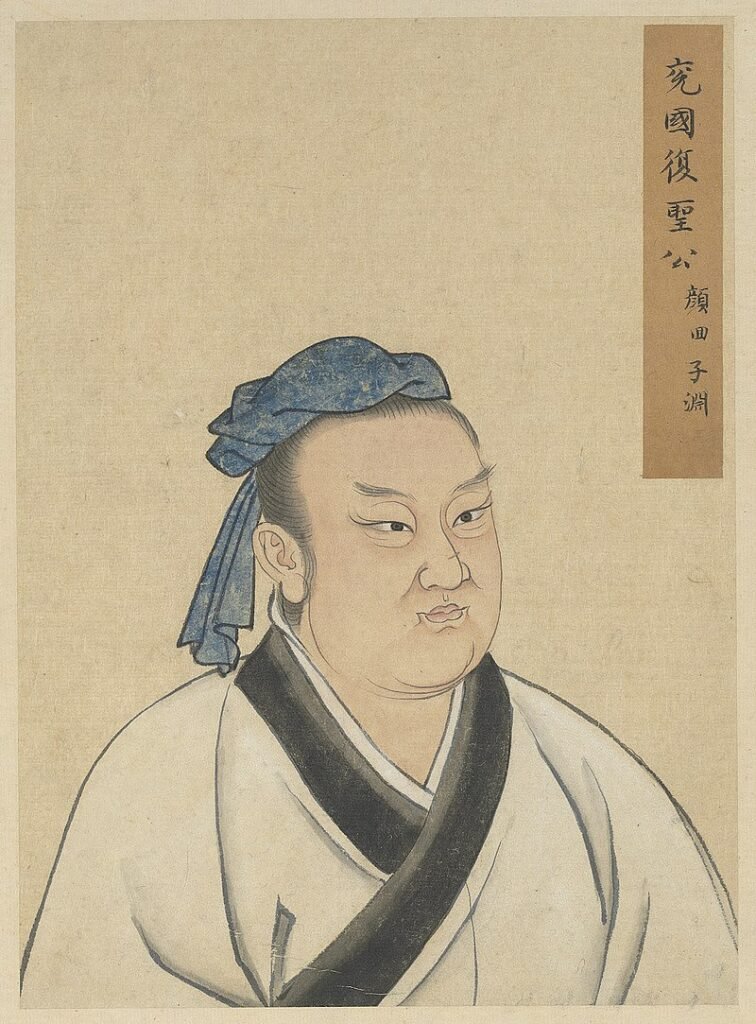 顏回(前521年-前481年),字子淵,又稱顏子、顏淵。唐代為避李淵名諱,曾改其字為子泉。春秋魯國人。孔子七十二門徒之首。孔門十哲中德行科之一。被視作孔子最得意的弟子,位居孔門第一位。顏回年紀比孔子少三十歲,也有說法是比孔子小四十歲。家境貧窮,但能安貧樂道;為人聰敏、好學,聞一知十;品行優越,孔子稱贊其賢德,是孔子心法傳承的直系弟子,但年僅四十歲就去世了,後世尊稱為「復聖」。
Yan Hui, also known as Ziyuan, Yanzi, or Yanyuan, was a native of the State of Lu during the Spring and Autumn period in ancient China. He was the foremost among Confucius' seventy-two disciples and ranked among the top ten wise disciples in terms of moral character. Despite being born into poverty, Yan Hui was content with a simple life, renowned for his intelligence, love of learning, and ability to quickly grasp new concepts. He was highly respected for his moral character, and Confucius praised him as a virtuous and wise disciple, who was also the direct heir to his teachings. However, Yan Hui died young, at the age of 40, and later generations referred to him as "Fu Sheng," meaning "saint returned."
有一次顏淵、子路侍候孔子,孔子要他們各自說說自己的誌向。
Once, Yan Hui and Zilu were attending to Confucius, and he asked them to each speak about their aspirations.
子路說:「願車馬、衣輕裘,與朋友共,敝之而無憾。」可見其輕視財物、好交朋友的個性。顏淵曰:「願無伐善,無施勞。」意即不張揚自己的長處優點專長、不宣張自己的功勞,可見其謙虛與仁愛的本性。
Zilu expressed his desire for a carriage and horses, as well as luxurious fur clothes, which he could share with his friends without feeling any regret. This reveals his modest attitude towards material possessions and his sociable nature. Yan Hui, on the other hand, stated that he wished to refrain from bragging about his own merits or causing undue burden on others. This showcases his innate humility and benevolence, as he preferred to avoid drawing attention to his own accomplishments and instead focused on the needs of others.

子謂顏淵曰:「用之則行,舍之則藏,唯我與爾有是婦!」子路曰:「子行三軍,則誰與?」子曰:「暴虎馮河,死而無悔者,吾不與也。必也臨事而懼,好謀而成者也。」
Confucius praised Yan Hui, saying, "You exhibit resoluteness in action and humility in repose. This quality is shared only by you and me." Zilu asked, "If you were to lead an army, who would you choose as your companion?" Confucius replied, "I would not choose someone who, like a fierce tiger crossing a river, is fearless of death and has no regret. Instead, I would choose someone who, though fearful of danger, is adept at planning and can ensure success.

顏淵喟然嘆曰:「仰之彌高,鉆之彌堅,瞻之在前,忽焉在後!夫子循循然善誘人,博我以文,約我以禮。欲罷不能。既竭吾才,如有所立卓爾。雖欲從之,末由也已!」
Yan Hui sighed and exclaimed, "The more I look up to him, the taller he appears; the deeper I delve to understand him, the more profound he seems. When I focus on him, he suddenly appears to be behind me. Master Confucius guides people patiently, enlightens me extensively with literature, and restrains me with rituals. I cannot resist his charisma. I tried my best, yet I still feel inadequate. Even if I wanted to follow him, I would not know where to begin."

困於匡
孔子受困於匡,顏淵在後跟上。孔子說:「吾以女為死矣。」顏淵說:「子在,回何敢死?」
While Confucius was trapped in the state of Kuang, Yan Hui remained by his side. Confucius remarked, "I feared that you were dead." Yan Hui replied, "As long as you are alive, how could I even contemplate dying?"

去世
顏回39歲,頭發盡白,過二年即去世。孔子非常難過,說:「自吾有回,門人益親。」又說:「噫!天喪予!天喪予!」隨從說:「子慟矣。」孔子說:「有慟乎?非夫人之為慟而誰為!」
At the age of 39, Yan Hui's hair turned completely white, and he passed away two years later. Confucius was deeply saddened and said, "Since I had Yan Hui, my disciples have become more intimate." He also said, "Alas! Heaven has bereaved me! Heaven has bereaved me!" His followers said, "The Master is overwhelmed with grief." Confucius replied, "Is it too much to mourn? If we do not mourn for someone like him, then for whom should we mourn?"

顏無繇請孔子把車賣掉以用來為顏淵買棺槨。孔子說:「才不才,亦各言其子也。鯉也死,有棺而無槨。吾不徒行以為之槨。以吾從大夫之後,不可徒行也。」弟子們又欲厚葬顏回,子曰:「不可。」最後還是厚葬了顏回。子曰:「回也,視予猶父也,予不得視猶子也。非我也,夫二三子也。」
Yan Wuyou, the father of Yan Hui, asked Confucius to sell his carriage in order to buy a coffin for his son. Confucius replied, "Talent or no talent, every man speaks for his own son. When Kong Li, my own son, died, he had a coffin but no outer shell. I could not provide him with one, for as a former nobleman, it would not be appropriate for me to walk without a carriage." Although the disciples wished to give Yan Hui a grand burial, Confucius refused, saying, "It is not appropriate." Despite this, Yan Hui was ultimately given a lavish funeral. Confucius remarked, "Yan Hui treated me like a father, but I could not treat him as a son. It was not my intention, but the disciples insisted on it."

之後,魯哀公問:「弟子孰為好學?」孔子回答:「有顏回者好學,不遷怒,不貳過。不幸短命死矣,今也則亡,未聞好學者也。」
When Lu Ai Gong asked, "Who among your disciples loves learning the most?" Confucius replied, "There was a student named Yan Hui who had the greatest passion for learning. He never blamed others for his own mistakes, nor did he repeat the same error twice. Unfortunately, he died at a young age. Since then, I have not seen anyone who could match his love for learning."

顏回留有一子顏歆。
Yan Hui left behind a son named Yan Xin.

歷代追封 Posthumous titles throughout history
自漢代起,顏淵因為較易查考的關系,被列為七十二賢之首,有時祭孔時獨以顏淵配享。此後歷代統治者不斷追加謚號。
唐太宗貞觀二年(628年)詔稱「先師」。
唐高宗總章元年(668年)追封太子少保。
唐玄宗開元二十七年(739年)封「兗公」。
宋真宗大中祥符二年(1009年)加封「兗國公」。
元文宗至順元年(1330年)又加封「兗國復聖公」。
明世宗嘉靖九年(1530年)改封「復聖」。
特殊待遇
除了歷代追封外,顏淵的嫡系後代被封為翰林院五經博士,民國時期為「復聖奉祀官」,享簡任官職位及待遇,約比照司長級,世代世襲。
Since the Han Dynasty, Yan Hui has been considered the foremost of the "72 wise men," due to his easily verifiable relationship with Confucius. Sometimes, he was the only one offered sacrifices alongside Confucius. Subsequently, rulers of each dynasty have continued to add posthumous titles.
In the second year of Emperor Taizong's reign of Tang Dynasty (628 AD), he was posthumously referred to as "First Teacher".
In the first year of Emperor Gaozong's reign of Tang Dynasty (668 AD), he was posthumously appointed as the Grand Protector of the Crown Prince.
孔門十哲 The Ten Disciples of Confucius