ENGLISH DIZIGUI BEGINNERS COURSE 2022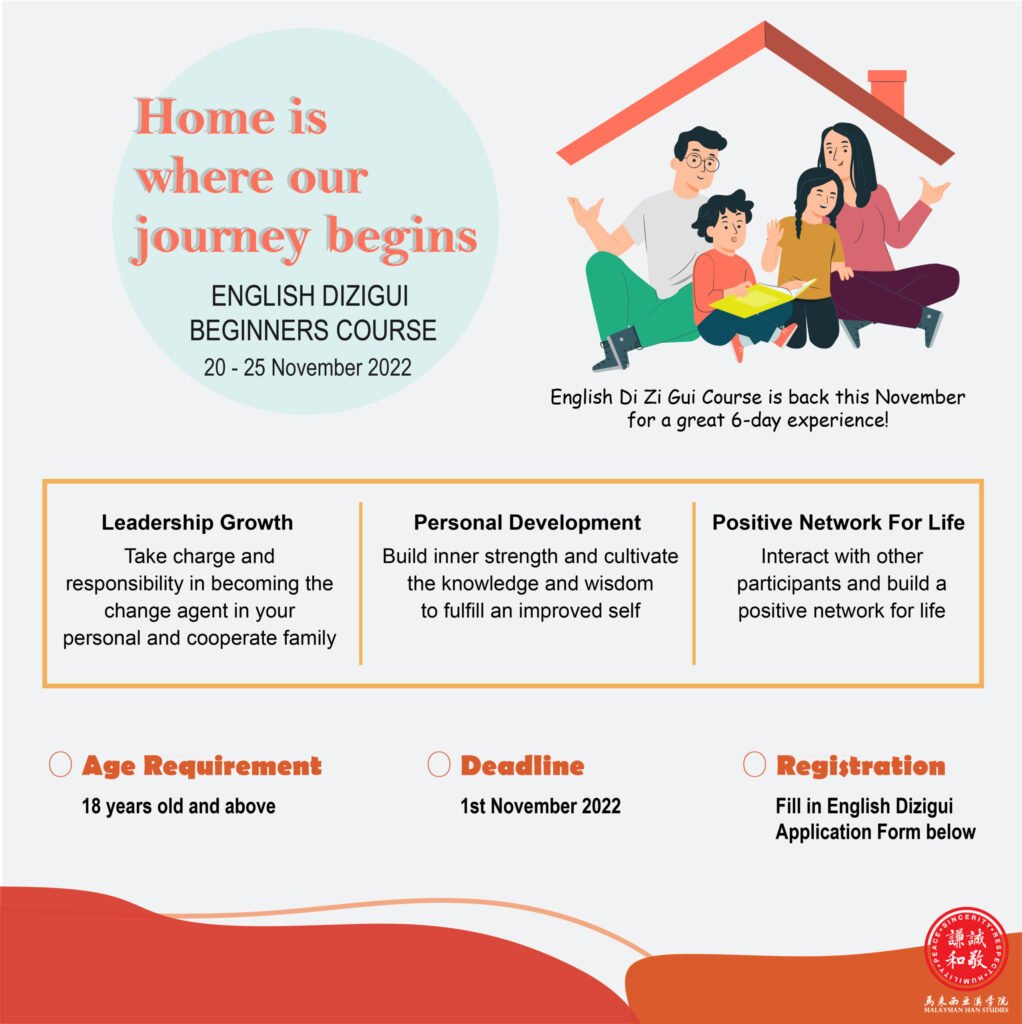 Since 2009, Malaysian Han Studies has conducted character-building classes based on a book called Di Zi Gui, How to be a Good Person. Accompanied by Liaofan's Four Lessons—Changing Destiny, The Essential Chinese Common Courtesies, the Great Learning, the Book of Mencius, and the Response and Retributions by Lord Taishang, we have accumulated valuable guidelines provided by the ancient Chinese sages that would help individuals to gain a perspective on ways to live a healthier and happier life. Past participants have provided positive feedback, and some became lifelong friends and associates of the Mahans family. Eligible participants will join this course and share a great 6-day experience that include lectures, real-life experience sharing, drama class, and vegetarian cooking. An optional one-day Melaka city tour (self-paid) can be arranged.
English Di Zi Gui Course is back this November for a great 6-day experience!

Positive Network For Life

Take charge and responsibility in becoming the change agent in your personal and cooperate family

Build inner strength and cultivate the knowledge and wisdom to fulfill an improved self

Interact with other participants and build a positive network for life
(1)Workshop Duration
          From 20 November to 25 November 2022
(2)Age Requirement
(3)Study Location
(4)Registration
          Fill in English Dizigui Application Form below

(5)Deadline
          1st November 2022
Note: Due to recent recovery from the Covid pandemic situation, only 50 places are available for the course. Priority selection will be given to applicants with a recommendation letter from their company, school or working units.
(6)Location
Malaysian Han Studies, Melaka
No.1, Jalan Tun Hamzah, Mukim Bukit Katil, Hang Tuah Jaya, 75450 Melaka, Malaysia