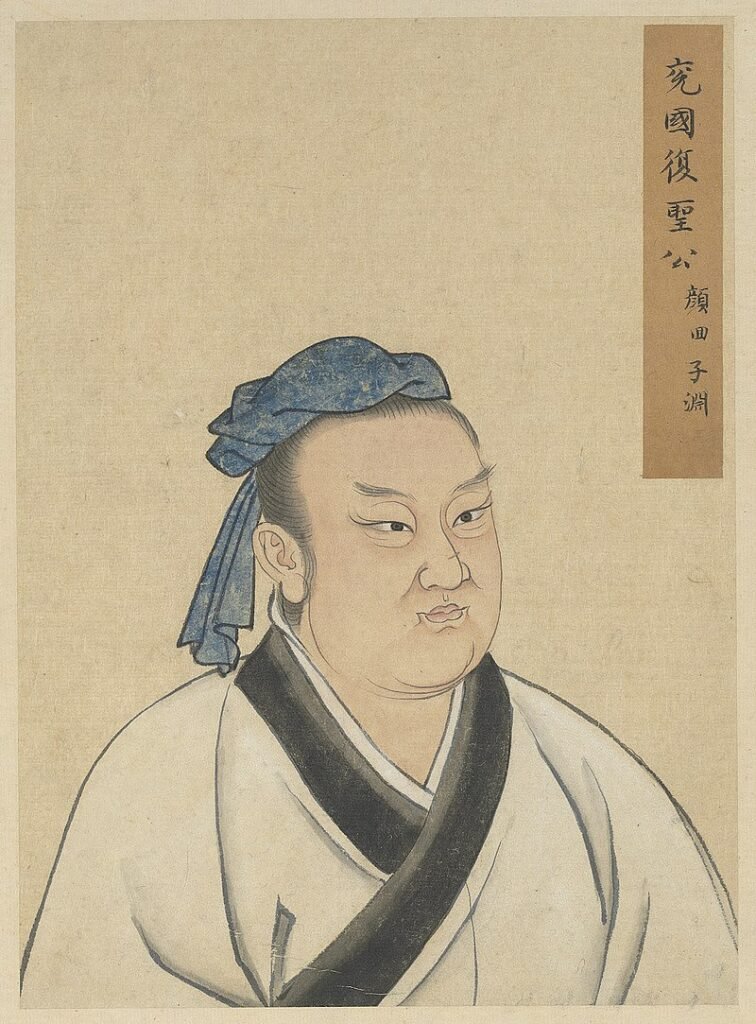 Yanhui (521 BCE – 481 BCE), also known as Ziyuan, was born in the state of Lu during the Spring and Autumn period in ancient China. He was one of the disciples of Confucius, the renowned philosopher of Confucianism, and was considered one of Confucius' most cherished and accomplished students.
Yanhui came from a humble family background, but he possessed exceptional intelligence and learning abilities. As a young man, he developed a profound interest in the ethical philosophy and moral cultivation of Confucianism and made a firm decision to follow the teachings of Confucius. His sharp intellect and outstanding moral character caught the attention of Confucius, who held Yanhui in high regard and regarded him as one of his favorite students.
Yanhui had a deep understanding of ethical concepts and moral cultivation. He upheld strict moral standards, with benevolence and compassion as core values, and strove to practice these principles. He believed in treating others with kindness, respecting rituals, and pursuing the noble qualities of morality. Continuously reflecting on himself, he endeavored to improve his conduct and character, aspiring to become a better person.
Yanhui engaged in extensive discussions and intellectual exchanges with Confucius. Confucius praised him by saying, "I talk with Yanhui all day long, and he never disagrees with me like a fool." Confucius considered Yanhui as a capable inheritor of his teachings and provided him with special guidance and education, enabling his thoughts to reach deeper levels of development.
However, Yanhui's life was tragically short-lived. Due to his frail health, he passed away at a young age, leaving Confucius deeply saddened and longing for Yanhui's moral character and scholarly talent.
The thoughts and spirit of Yanhui were inherited and developed by later generations. His teachings, centered around "benevolence" and "compassion," became an essential component of Confucianism in the succeeding eras. His pursuit and efforts left a profound imprint on Chinese traditional culture, providing significant inspiration for personal moral cultivation, family ethics, and social ethics.
Yanhui was honored with the title "Yanzi" (Master Yan) and his thoughts and values influenced the development of the later Confucian school of thought, exerting a profound impact on Chinese society. His followers passed down his teachings and regarded him as one of the important transmitters of Confucian doctrine.
Although Yanhui's life was brief, his academic achievements and moral qualities are forever remembered and revered by people. His dedication and contributions serve as an example for future generations, playing a crucial role in the construction of a harmonious society and the cultivation of outstanding individuals. The thoughts and spirit of Yanhui will continue to influence people's values and behavioral standards, shining eternally in the inheritance of Chinese culture.
Posthumous Titles and Honors Throughout the Dynasties
As one of Confucius' most esteemed disciples, Yanhui made significant contributions to the development of traditional Chinese culture and Confucian thought. Therefore, he was recognized and honored with various posthumous titles throughout the dynasties.
During the Han Dynasty, Yanhui was honored with the title "Yan Zi," which affirmed his status and influence in Confucian teachings. Yanhui's teachings became one of the important schools of thought within the Confucian tradition, with "benevolence" and "compassion" as its core values.
In the Tang Dynasty, Yanhui was posthumously titled "Wen Gong," in recognition of his outstanding achievements in literature and academia. Scholars of the Tang Dynasty considered him an important representative of Confucian thought, further promoting Confucian ethics and morality.
In the Ming Dynasty, Yanhui was posthumously titled "Wen Lie Gong," emphasizing his scholarly talent and remarkable contributions to the country and society. Scholars of the Ming Dynasty regarded him as a role model for moral cultivation and widely disseminated his teachings.
Furthermore, in different regions and periods, Yanhui was also honored with titles such as "Yan Sheng," "Yan Xian," and "Yan Wen Gong." These titles and honors were bestowed to acknowledge his outstanding character, knowledge, and contributions to Confucian thought.
Yanhui's thoughts and spirit have been passed down from generation to generation, profoundly influencing traditional Chinese culture and Confucian thought. He is regarded as an exemplar of Confucian moral cultivation and recognized as one of the important heirs of Confucian teachings. These posthumous titles and honors demonstrate the high praise for Yanhui's teachings and character, as well as his representation of moral, scholarly, and cultural greatness.
The Ten Disciples of Confucius